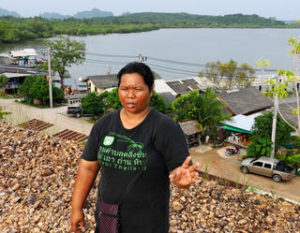 KRABI – A planned coal-fired power plant in this resort area has met with fierce resistance from locals worried about the environmental impact, as well as alarm among Western and Japanese infrastructure companies fearing a Chinese incursion into their last Southeast Asian stronghold.
The proposed 800MW facility, which aims to meet growing electricity demand in southern Thailand, has been pushed hard by the government. It is to be built about 10km inland from the Andaman Sea on a site now hosting a smaller, older plant.
Many Thais are concerned about the project, having soured on coal after seeing the environmental damage wreaked by the Mae Moh plant in the north. Many residents also object to the coastal development and increased port traffic the project will inevitably bring, given that coal for the facility will come from overseas.
A proposed site for unloading coal shipments is located near Laem Hin, a scenic fishing village of just 30 or so households. Each boat can bring in at least 6,000 baht ($171) a day at the height of the fishing season. While this hardly makes for a lavish lifestyle, residents have pleaded to be let alone. The Electricity Generating Authority of Thailand has offered a hospital and a fish farm in exchange for consent to the plan, but to no avail.
"We're not sure whether we can win or not, but we'll fight to protect the ocean and our way of life," a leader among the activists there said.
Losing ground to China
The recent death of King Bhumibol Adulyadej could delay a final decision on the plant, which had been expected to come as early as this month.
A coal-fired power plant is scheduled to be built on this site in Krabi, Thailand.
Companies in Europe, Japan and the U.S. may be rooting against it. The Krabi facility would be the first major Thai project awarded to a Chinese building company.
A consortium of France's Alstom Power Systems and Japanese trading house Marubeni lost out on the project in July to Power Construction Corp. of China and a Thai partner. The decision was "shocking," recalled a source at a major Japanese power equipment manufacturer.
The winning bid of 32 billion baht for the plant itself came in nearly 10% under the French-Japanese proposal. "We weren't picked despite going below market prices," said Masayuki Nishida, who works in Marubeni's Thai operations. "The rules they play by are too different from ours — we can't take orders that'll lose money."
EGAT has ordered 11 fossil-fuel power plants over the past decade or so, including the Krabi project, Nishida said. The Thai government picked Japanese, European or local companies for each of the other 10, with American businesses delivering some equipment. Alstom and Marubeni won an order topping $1 billion last year to replace a portion of the Mae Moh facility with a new 600MW unit.
A bad reputation
China has a spotty track record in building power plants in Southeast Asia. Chinese businesses used low prices to snag a slew of orders in Indonesia in the 2000s. But much of the equipment did not work as designed, causing outages in certain areas.
The Hongsa coal-fired power plant completed in Laos last year is a recent example. The facility, constructed by a Chinese company from Chinese-made equipment, was online just 30% of the time at first, according to a large heavy machinery maker. A spokesperson from Ratchaburi Electricity Generating Holding, which owns a stake in the plant, said the state-affiliated Thai company has no information on the topic.
EGAT's decision to permit Chinese involvement in the industry may not reflect its true feelings on the matter. Some argue that the shift came at the behest of the military junta, which has been cozying up to China, as shown by a deal with Beijing on a rail project.
A number of power generation facilities in the 1,000MW range are believed to be in the pipeline. The fate of the Krabi project will be pivotal to infrastructure development in Thailand, in terms of Chinese involvement as well as Bangkok's handling of environmental concerns.
Source: http://asia.nikkei.com/print/article/212634