PJ Wood invests to manufacture sustainable flooring for export
Firm targets US market by q1 2023
Sustainable home goods manufacturer, PJ Chonburi Parawood Co Ltd (PJ Wood) is expanding capacity and capability to manufacture wooden building components for global export including wooden flooring, butcher blocks, counter tops, and laminated boards. Company is targeting to meet demand for home construction materials that are produced from both sustainably sourced materials and processes.
The company started expansion of its Chonburi, Thailand facility February this year, and once all phases are complete it will add approximately 30,000 sqm of new production and warehouse space that can be used for its flooring, laminated boards, components, countertop and butcher blocks manufacturing.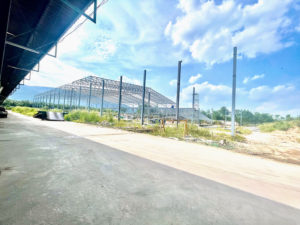 Today PJ Wood is a leader in global wooden furniture manufacturing. It works with the world's largest retailers to manufacture their private label products. Currently, it distributes to more than 27,000 stores globally along with all major ecommerce channels in 27 countries. "We would like to utilize our strengths in operational efficiency and material utilization to lead in the wood components category, alongside flooring and kitchen products' ' according to PJ Wood CEO Andrew de Jesus. "In 2022 we have invested in operational systems and technology that allows us to approach manufacturing with data analytics across all operations, with this we can apply our practices in furniture manufacturing into the production of laminated boards, flooring, butcher blocks and moldings to achieve the highest level of efficiency".
"As a Thai company, we would like to be in the forefront of maximizing the use of rubberwood and utilizing it for end products through sustainable manufacturing process", according to PJ Wood COO Busayakorn de Jesus. "Thailand is the largest source globally of rubber plantations, we are investing in RD and manufacturing capability to expand the use of rubberwood into more products such as countertops, flooring and moldings among other components." "We will continue to push our sustainability mindset in producing more products with no harmful chemicals end to end which is unique to PJ in the wood and manufacturing industry as most companies have used chemical based paint or glues versus water based raw materials which PJ have been utilizing for the past several years". Chief Operating Officer Mrs. Busayakorn de Jesus added that PJ's ethical manufacturing practices gained from years of experience working alongside the world's largest retailers will be the edge of the company as retail customers and consumers would like to purchase products from companies that it can trust in environment and social practices.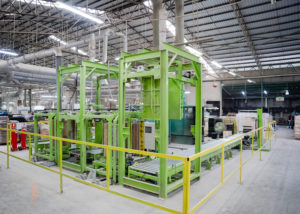 Initial product release for its flooring products will be available in the domestic market by January 2023 through a direct to consumer model, and PJ Wood will also work with domestic retailers and distributors. "As a customer centric business, we believe that we are offering consumers the best value as our price point will be at par with engineered wood, but offering a sustainable solid wood product using the best coating technology" De Jesus said. PJ Wood is also working with major US retailers to supply countertops, and flooring through its distribution network. According to Mr, Andrew de Jesus, the biggest market potential for these products is the US especially with the geopolitical tensions between China and US, in 2021 alone US imported $2B USD in wood moldings with China's total exports decreasing to $142M USD, while our neighbor Indonesia have grown their exports by more than 110% to $140M USD. In 2021, the US also imported $11.1B USD of wooden cabinets. Other markets to be penetrated include South Korea, Japan, China and other middle eastern countries. Last year, the company exported on average 200 containers per month, a wider range of products will allow PJ to have a more diverse revenue stream and push the company to be a global leader in sustainable material manufacturing.
Source: https://www.bangkokpost.com/thailand/pr/2440867/pj-wood-invests-to-manufacture-sustainable-flooring-for-export