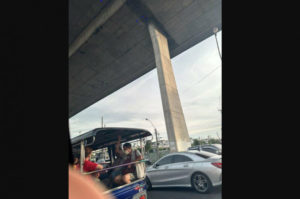 Phra Nang Klao Bridge in Nonthaburi province 'not a safety risk'
The ground columns of Phra Nang Klao Bridge were designed in line with international engineering standards, one of the main project crew said on Friday in response to speculation they may be too thin to properly support the structure.
On Thursday, a Japanese tourist tweeted a photo of the bridge in Nonthaburi province, claiming the columns were too thin. The photo was retweeted more than 8,000 times and seen by 13 million viewers, sparking an online debate about Thailand's construction safety.
Most of the comments expressed concern about the safety of the pillars in the event of an earthquake.
On Friday, Patthanapong Thongsuk, one of the engineers who oversaw the construction project, reassured reporters they are safe and solid.
He said the bridge was designed according to the standards laid down by both Thailand's Department of Highways and the American Association of State Highway and Transportation Officials (AASHTO), an international leader in setting technical standards for all phases of highway system development.
The base of each pillar is around 80 centimetres thick and 410cm wide. The height varies from 10-15 metres. The bridge itself contains space on the joints which helps allow the elevated road to adjust to temperature changes that can cause the bridge to contract and expand, Mr Patthanapong said.
He said thin ground columns are more flexible when it comes to supporting these changes in the bridge due to thermal effects. In contrast, large columns must bear a tremendous weight due to their rigidity.
Chavalert Lertchavanakul, a senior engineer at the Department of Highways, told the Jor Sor 100 traffic radio station that the bridge and its ground columns are safe to carry the weight of vehicles and are also quake-proof.
He noted that the ground column design has been in use since 2015. The Norwegian civil engineering company Norconsult Aasjakobsen proposed the bridge's design to the Department of Highways, and it has since been applied to other bridges in Thailand as well, he added.
Mr Chavalert said the Phra Nang Klao Bridge has been in use for years without incident.
Anek Siripanichgorn, an adviser to the Engineering Institute of Thailand under HM the King's patronage, explained that the thin ground columns are a new design and are safer than thicker columns if there is an earthquake.
A similar design is applied to a lot of Japanese infrastructure, he said.
Source: https://www.bangkokpost.com/thailand/general/2607783/nonthaburi-bridge-not-a-safety-risk