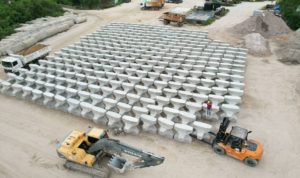 Phase 3 of Map Ta Phut Industrial Port Development in Thailand kicks off
Construction has started on Phase 3 of the Map Ta Phut Industrial Port Development in Thailand – the ACCROPODE project.
The 3D physical model tests were carried out recently at the CSIR- National Chemical Laboratory to check and confirm the stability of the single-layer ACCROPODE™ armour.
According to Concrete Layer Innovations (CLI), these tests were monitored by the Designer PRDW Consulting Port and Industrial Engineers.
Italian-Thai Development Public Company Limited "ITD"​ Limited has already started the construction of a 3 km-long core and it also started the fabrication of the 70 000 ACCROPODE™ blocks which will be used for the armour of the 7 km-long breakwaters.
ACCROPODE™ blocks of sizes 1 m3, 2 m3 and 4 m3 will be placed on the armour.
The placement phase is planned to start December 2022 / January 2023, after the company's crew has been trained for placement by CLI.
Source: https://www.dredgingtoday.com/2022/11/03/phase-3-of-map-ta-phut-port-development-kicks-off/