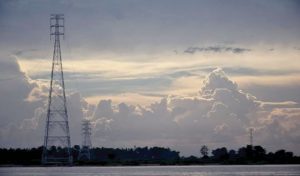 PESTECH (Cambodia) Plc foresees a brighter Cambodia with photovoltaic solar generation
PESTECH (Cambodia) Plc (PCL) was established in Cambodia 11 years ago. It is a wholly-owned subsidiary of PESTECH International Berhad and undertakes engineering, procurement, construction and commissioning activities for high voltage and extra high voltage substations, transmission line and power cable system including civil works in Cambodia.
PCL Executive Chairman Paul Lim told Khmer Times that because Cambodia is strategically located in the Indochina region and is steadily developing under a stable government, this motivated the international company to enter the Cambodian market. "Cambodia has a robust economic and social growth which drives overall power infrastructure development. PESTECH has identified Cambodia as our primary Indochina base for our regional expansion into Laos, Myanmar and Vietnam," said Lim. Previously known as Tajri-Pestech JV Ltd, it was incorporated on Feb 5, 2010, as a single member private limited company in Cambodia. It commenced operations in the same year. In July 2013, it adopted the name PESTECH (Cambodia) Ltd. Later, it assumed the name PESTECH (Cambodia) Plc. upon the completion of an internal reorganisation that was approved by the Ministry of Commerce (MoC) in Cambodia on 27 June, 2018, to facilitate its listing on the Cambodia Securities Exchange (CSX), which was successfully realised on Aug 12, 2020.
"We are a wholly-owned subsidiary company of PESTECH International Berhad, a company incorporated and domiciled in Malaysia which is listed on the main market of Bursa Malaysia Securities Berhad, the stock exchange of Malaysia," said Lim. PCL is an integrated electric power technology company. It is principally engaged in the provision of comprehensive power system engineering and technical solutions for the engineering, design, procurement, construction, installation and commissioning and the operation and maintenance of high voltage (HV) and extra high voltage (EHV) substations, HV and EHV transmission lines as well as underground power cable systems for electricity transmission and distribution. It also contributes in full turnkey engineering, procurement, construction and commissioning activities and operation and maintenance (O&M) of photovoltaic (PV) solar farms, power infrastructure components, equipment, automation and digitalisation.
PESTECH Group has currently invested in a 20 MegaWatt (MW) PV solar plant located in Bavet city, Svay Rieng province, under a power purchase agreement with Electricite du Cambodge (EDC). In addition to investment in PV solar plants, it is also a concession holder of a power transmission agreement for the development, O&M of the development of the 230-kilovolt Kampong Cham – Kratie transmission system project, said Lim. PCL had its initial public offering on the CSX last August under stock code PEPC. Shares have traded steadily over the first half of the year, with total trading volume increasing over the period by 55.05 percent to 490,812,160 riels.
Lim said, "Similar to the trading activities, the performance of the share price is purely market driven. We are encouraged by the interests shown by the investing public in the shares of PEPC and the management is dedicated to continuously build the business of PCL to support the sustainable development of the company."
PCL foresees a very positive outlook for photovoltaic solar generation potential in Cambodia for the next four years until 2025, with various schemes of implementation and technological advancement being introduced along the way. Based on the data published by the Electricity Authority of Cambodia (EAC), the installed generation capacity of PV solar plants was recorded at 236.80 MW (8.12 percent) of the total installed power generation capacity in Cambodia during 2020, as compared with 90 MW (3.79 percent) of the total installed capacity in 2019. EAC also expects the installed capacity for PV solar plants to increase to 376.80 MW (12.33 percent) against the total installed capacity by end of 2021, said Lim.
"Overall, renewable energy generation will also see a positive growth trend as total installed capacity of renewable energy grows from 1.45 Giga Watts (GW) (2019) to 1.59 GW (2020) and estimated to hit a target of 1.73 GW in 2021. Hydropower still leads the renewable energy mixture, followed by PV solar and biomass. However, the catalyst for renewable energy growth will mainly derive from the growth of photovoltaic solar plants going forward, while the capacity of hydropower plants is being maintained," said Lim.
Lim also noted that depending on the requirements of each project, the company sources the PV panels and other relevant materials regionally. In order to ensure consistency and reliability of performance, PCL only uses Bloomberg Tier-1 rated solar panels.
Its in-house technical team is well versed in full fledge design and engineering works for the PV solar plant and the team works closely with identified suppliers and manufacturers to ascertain smooth implementation of the projects in Cambodia.
Lim said, "Overall, Cambodia is a very business friendly country with a progressive government policy. As such, it is attractive to conduct business in Cambodia and PCL has shown its dedication and commitment with the growth of its business reach and also the successful listing of the company on CSX. It is the only power infrastructure company to be listed so far." In spite the above, the company faces some challenges in the general financial market in Cambodia because it is still at an early development stage. Consequently, fundraising activities, either debt or equity, are still a challenge for PESTECH to fund its business development as it progresses to the procurement of projects of higher value. "However, we are gradually able to break through in securing project funding for smaller size projects. That is a healthy sign of a positive development in the financial market in the country," added Lim. PESTECH Group involves itself in project management, engineering, digitalisation, manufacturing, installation, testing and commissioning of electrical power infrastructures for power grid, rail electrification, smart energy solutions, distributed power supply systems and power storage solutions. Apart from Malaysia and Cambodia, PESTECH Group has expanded its market reach in Kyrgyzstan, Papua New Guinea, the Philippines, Thailand and Western Africa.
"Currently, we are involved in photovoltaic solar projects in Malaysia, Cambodia and the Philippines with growing prospects from regional countries," added Lim.
Source: https://www.khmertimeskh.com/50923956/pestech-cambodia-plc-foresees-a-brighter-cambodia-with-photovoltaic-solar-generation/