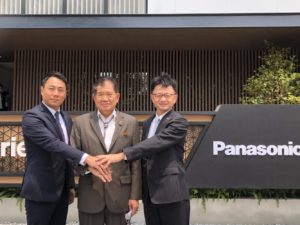 Panasonic Life Solutions enters into modular housing push in Thailand
Panasonic has chosen Thailand as the first country in the region to offer modular construction housing by partnering with Siam Steel International, Thailand's leading manufacturer of steel products and building materials.
Wataru Matsumoto, chairman of the regional headquarters of Panasonic Life Solutions Sales Thailand, said Panasonic is entering the modular construction housing market because Thai and Japanese cultures are similar.
Panasonic plans to start production in April to meet new demand in the pandemic era.
He said both Thais and Japanese prioritise hygiene and healthy living, while the 65 and over demographic in Thailand is huge, at 11% of the total population, the same level as Japan in 1990.
Mr Matsumoto, also managing director for Southeast Asia & Oceania at Panasonic Life Solutions Japan, said as people spend more time at home, demand for high value-added features in homes is rising.
He said other social issues, such as the labour shortage, and quality problems in the construction industry amplified the opportunity for modular housing in Thailand.
The company is providing two types of houses, producing and selling six models measuring 200 square metres, 250 sq m and 370 sq m, while the price is set at 35,000 baht per sq m.
Mr Matsumoto said the construction period for modular houses is shorter than regular houses at around 3-4 months. Panasonic wants to develop mid-priced housing projects at 5-10 million baht per unit.
There is demand for 29,000 mid-priced units in the modular housing market, with an estimated market value of 65 billion baht per year in Thailand, he said.
"Despite a decline in house sales in Thailand, partly due to the impact of the outbreak, the detached house market is projected to grow steadily from 2020 to March 2021. The upward trend with consistent demand will persist, especially in urban neighbourhoods," said Mr Matsumoto.
The firm plans to launch more products in July, such as a robotic care bed/wheelchair called Resyone Plus that assists the infirm.
To enter the non-residential market, which will include hospitals and schools in Southeast Asia as its targets, the firm will also launch more hygiene-related products such as antibacterial deodorisers and wall-mounted fans with a PM2.5 filter in April.
Panasonic and Siam Steel opened the Experience Center on Wednesday, a two-storey model home for modular construction in Bangkok.
The house features new lifestyle solutions using Panasonic's latest technologies and unique products, targeting architects, interior designers and real estate companies.
Panasonic Life Solutions had sales of 4 billion baht in 2020. It expects sales of 7.1 billion in 2024. Of the total, 900 million is expected to come from the modular house business.
Source: https://www.bangkokpost.com/business/2085475/panasonic-enters-into-modular-housing-push