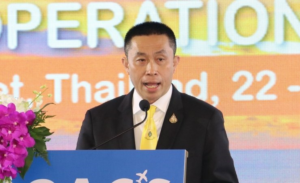 Armed with fresh evidence, Transport Ministry likely to approach Criminal Court in Hopewell case
By The Nation
Transport Minister Saksyam Chidchob said on Tuesday (Sep. 24) that the committee on the Hopewell case chaired by Pisak Jitwiriyawasin, deputy permanent secretary at the ministry, has found eight new pieces of evidence of corruption in the project that will enable the ministry to file a case in the Criminal Court.
"The committee is currently gathering all related details and will present them to me this week," he said. "I am confident the new evidence will make a valid base for a corruption case, and consequently tip the scales in our favour.
"If the Transport Ministry was not certain that we would win, we wouldn't try to make a move towards the Criminal Court," said the minister. "However, the result is dependent on the court's discretion."
According to Saksyam, the committee on Hopewell is also working on a plan to pay compensation to Hopewell in case the latter wins the case.
"We are coming up with a plan as to where to get the money from and how to pay, but only in case we lose," he said.
A payment of Bt11.88 billion to Hopewell is due on October 19.
Source: https://www.nationthailand.com/news/30376641