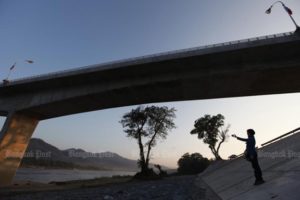 Northern Thailand to Southern China in two hours on Laos Expressway
Surveyors are already designing a route for a new expressway in Laos that will cut travel time between northern Thailand and southern China.
Liu Jingwei, an official overseeing the project, said officials were surveying the route for the expressway that will connect Huayxai in Laos' Bokeo province and Boten, the Lao town in Luang Namtha bordering China, according to the Vientiane Times.
The expressway was approved by the Lao government in 2020, with construction costs estimated at US$3.8 million.
The new road will connect with Chiang Khong district of Chiang Rai via the existing bridge over the Mekong River.
Two Hours from Thailand to China
The 180-kilometre highway would enable vehicles that are travelling at a constant 80 kilometers per hour from Thailand, to reach China through Laos in less than two hours.
Bokeo governor Buakhong Nammavong told media, "the new road would pave the way for quick delivery of goods within Laos and with other countries".
The Vientiane–Boten Expressway is a partially completed expressway between Boten, on the China–Laos border, and Vientiane, the capital of Laos. It roughly parallels Route 13.
The expressway is the first in Laos.
Construction of the expressway is divided in four sections: Vientiane–Vang Vieng (113 km (70 mi),Vang Vieng–Luang Prabang (137 km (85 mi))Luang Prabang–Oudomxay,Oudomxay–Boten.
The first section to be completed is the Vientiane–Vang Vieng Expressway.
Preparation work for the Vang Vieng–Luang Prabang section is to commence after opening of the Vientiane–Vang Vieng section.
Source: https://aseannow.com/topic/1223234-thailand-to-china-in-two-hours-on-laos-expressway/