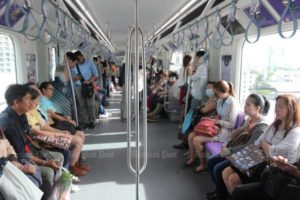 New stretch of Bangkok's MRT Blue Line rail system begins trial run
A new stretch of MRT Blue Line rail system in Thailand's Bangkok has run on trial.
Transport Minister Saksayam Chidchob presided over the opening ceremony on Monday for the new MRT Blue Line stretch between Tha Phra station on the Thonburi side of the capital city and Tao Poon station on the Phra Nakhon side.
Attending the opening ceremony were senior executive officials of the Mass Rapid Transit Authority of Thailand (MRTA) and Bangkok Expressway and Metro Plc. (BEM), the concessionaire of the MRT electric train system.
Commuters can ride on the MRT Blue Line's new stretch during the trial run free of charge until March 29, 2020, the next date from which they will pay a minimum of 16 baht (about 0.53 U.S. dollar) and a maximum of 42 baht (about 1.39 U.S. dollars) in fare.
The MRT Blue Line rail system is primarily designed to alleviate Bangkok's traffic congestion, given its entire route covering 48 km with a total of 38 railway stations in the future.
Source: http://www.xinhuanet.com/english/2019-12/24/c_138654401.htm