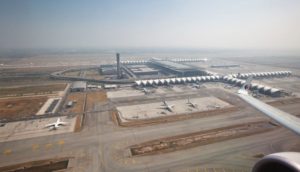 New second terminal at Thailand's Suvarnabhumi airport confirmed to be built
3 September 2019
.
Thailand's Prime Minister Prayut Chan-o-cha confirmed on Tuesday a second passengers terminal will be built at Suvarnabhumi international airport.
Due to an increased number of airline passengers in both domestic and international flights, Suvarnabhumi airport apparently needs a second terminal, the prime minister commented.
Suvarnabhumi airport is expected to accommodate 76 flights on hourly basis and as many as 180 million airline passengers throughout this year.
The Airports Authority of Thailand has pushed for the second terminal project at Suvarnabhumi airport, the construction of which is estimated to cost 1.37 billion U.S. dollars.
However, Prayut said, design of the second terminal project might be altered and a public hearing, particularly with regards to environmental effects, will be held shortly.
Besides, the second passengers terminal, the AOT has also planned to build a third runway in addition to two runways currently used at the international airport to alleviate flight congestion.
Source: http://www.xinhuanet.com/english/2019-09/03/c_138362343.htm