A new road will soon cut the travel time and build an even stronger link between southern China and the Asean states of Thailand, Laos and Vietnam.
Laos is fast becoming an important land transport link for Asean regional connectivity with southern China's Yunnan province.
Chiang Rai, up to now, has been the jumping off point from Thailand to China.
With the new road being built, the smaller city of Nan in northern Thailand will also become a jumping off point for China.
Currently, there are many different ways to get to China overland and by river from Thailand.
One can enter Laos via the Friendship Bridge in Chiang Khong.
One can drive from Mae Sai through Keng Tung (Chiang Tung) to Meng La (Muang La).
One can travel along the Mekong River from Chiang Saen up to Chiang Rung in the Tai Lue Sipsongpanna region of Yunnan, China (or Jinghong, Xishuangbanna in Chinese).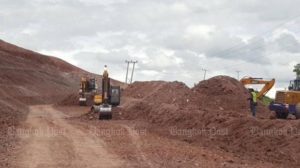 FROM NAN TO LUANG PRABANG IN LAOS IN LESS THAN THREE HOURS
The 114-kilometre Hongsa-Chiang Man Road, will be a shortcut from Thailand and China to Luang Prabang in Laos.
The road will help shorten the travel time from the Huai Kon border checkpoint in Nan to Luang Prabang by half from the current five to six hours to less than three.
Luang Prabang is in the middle of the country of Laos, rather than on a border like the capital Vientiane, so it is more difficult for people outside Laos to travel to Luang Prabang (although Luang Prabang is on the Mekong River which makes it a fun place to travel to by river boat from Chiang Khong, for instance).
An estimated 1,500 cars currently use the road each day.
BOOST TO TRADE & TOURISM
For the first time, the new road will connect three major tourist spots — Nan, Luang Prabang and Vietnam's Dien Bien Phu.
The road will also boost trade among the countries Thailand, Laos, Vietnam and China.
The border crossing point into Laos from Thailand at Nan province at Huai Kon, currently has a trade value of around 7 billion baht per year.
FINANCE & CONSTRUCTION
The road began construction five months ago and is due to be completed in 2018.
The road is being funded by the Thai government with the National Economic and Development Authority (Neda) extending a 1.58 billion baht loan with a low interest rate of 1.5% over a 30-year term. Another 390 million baht is also being offered to finance the road's construction.
TOURISM 43% OF LUANG PRABANG'S GDP
Tourist arrivals to Luang Prabang are forecast to reach 700,000 by 2020 from 500,000 at present.
Tourism currently accounts for 43% of Luang Prabang province's GDP.
It has an annual per capita income of US$1,532.
There are 76 hotels (including two four-star and five three-star hotels), 317 guesthouses, 286 food shops and restaurants, and 76 tour agencies in the province.
It also has 108 natural attractions, 86 cultural tourism spots and another 34 historic destinations.
The current 6,000-7,000 rooms are sufficient to serve tourists and another four to five hotels are under construction.
TOURISTS COULD QUICKLY DOUBLE
The number of tourists who visit Luang Prabang could double to 1 million after the road is completed and this should be a boon to the local economy.
It may be a challenge to preserve the unique flavour of Luang Prabang, a Unesco world heritage site, from the fast-changing environment.
The government plans to push the local community to develop souvenir production and plant organic vegetables to serve the expected increase in tourists.
Source: http://www.bangkokpost.com/business/news/1014877/laos-banks-on-road-link-with-china