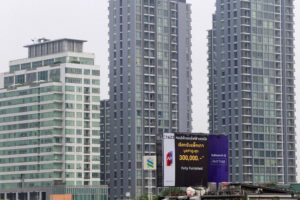 New condo supply set to reach 50,000 units in Greater Bangkok in 2022
New condo supply launched in Greater Bangkok in 2022 is poised to reach 50,000 units, surpassing the level in 2020 and 2021 but still lower than before the pandemic due to several negative factors.
Neeranuch Kanokvilairat, manager of research and consulting at property consultancy Edmund Tie & Co Thailand, said the forecast might be upgraded to more than 50,000 units if monkeypox is controlled and the Russian-Ukraine conflict does not worsen.
"If monkeypox becomes an outbreak, it will affect overall investment and economic recovery," she said. "Developers are also keeping an eye on the Russia-Ukraine war as it has an impact on construction costs."
She said China's zero-Covid policy was another concern for condo developers eyeing the Chinese market.
If Chinese buyers cannot return in the second half, developers might revise their launch plan to match the situation.
In the first five months of 2022, the condo market in Greater Bangkok saw a positive sign with the total number of new supply launches outpacing the whole year record in 2020 and 2021.
The Covid-19 outbreak hit the condo market in 2020-21 with many new projects postponing their launch.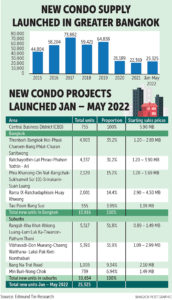 The number in 2020 shrank by 60% from 2019 and continued dropping by 15% last year, according to Edmund Tie.
The majority of new launches from January to May were in Nonthaburi's Tiwanon area and Rangsit, Khlong Luang, Khu Khot and Lum Luk Ka in Pathum Thani which accounted for 22%.
This was followed by Thonburi, Bangkok Noi, Phasi Charoen, Bang Phlat and Charan Sanitwong (19%), Ratchayothin, Lat Phrao, Phahon Yothin and Ari (17%) and Vibhavadi, Don Mueang, Chaeng Watthana, Lak Si, Pak Kret and Nonthaburi (13%).
"Locations in outer city areas saw the largest number of launches because plots in inner city areas were scarce and their prices were too high to do affordably-priced units while developers today want to tap the mass market segment," said Ms Neeranuch.
In Rangsit, the majority of buyers were local people who want to own an affordable unit, while those in Thonburi wanted units close to the MRT Blue Line.
Those in Vibhavadi, Don Mueang, Chaeng Wattana, Lak Si, Pak Kret and Nonthaburi were students and people working for the government sector and state enterprises.
"Almost 80% of the total launch in this period had starting prices of 1.2 million baht and lower per unit, meaning that the new supply aimed at real demand whose purchasing power was weaker amid rising living costs," Ms Neeranuch said.
She said new condo supply launched in the central business district area was very limited in the first five months.
However, the number in the second half would be larger as developers are pinning their hopes on full reopening of the country.
Source: https://www.bangkokpost.com/property/2321982/new-condo-supply-set-to-reach-50-000-units