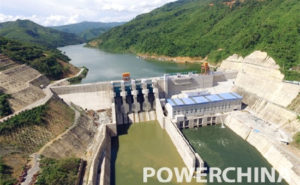 Nam Ou River hydropower project in Laos starts 2nd phase operation
A ceremony to start the first power generation unit of Nam Ou River Cascade Hydropower Project's second phase was held on Thursday, in Luang Prabang, some 220 km north of Lao capital Vientiane.
Lao Minister of Energy and Mines and President of the Laos-China Friendship Association Khammany Inthirath, and Chinese Ambassador Jiang Zaidong pressed a crystal ball button at the ceremony, thus jointly launching the power generation of the second phase's first unit, on the largest tributary of Mekong river in Laos.
The Nam Ou River cascade hydropower project, developed by Power Construction Corporation of China (PowerChina) under the China-proposed Belt and Road Initiative and also the first Chinese company-run project to win the development rights of a whole river basin in the country, is highly valued by Chinese and Lao governments and people.
The operation of the second phase's first unit indicates that the construction of the project has reached a new level, marking the delivery of high-quality clean power for Laos' socio-economic development and injecting new momentum into the development of China-Laos comprehensive strategic cooperative partnership.
The project is developed in two phases, with a total installed capacity of 1.272 million kilowatts and an average annual generating capacity of about 5.064 billion kilowatt-hours. When completed, it can guarantee 12 percent of the electricity supply in Laos.
In his speech, Minister Khammany spoke highly of the significant achievements made in the Nam Ou River cascade hydropower project and its strategic significance in the country's energy industry. He pointed out that the project is an important livelihood project in northern Laos, which will help transform the lifestyle and improve the local production conditions, address local issues of power supply and poverty alleviation, and bring more investment.
The minister also said the project is a green, environment-friendly and sustainable development project, which will bring a large amount of high-quality and sustainable power to Laos.
The project, during its construction, has been addressing local issues of power supply, poverty alleviation, infrastructure improvement and other social welfare, which has set an example for other projects, Khammany said, adding that the project is a demonstration of Laos-China electricity and energy cooperation.
Ambassador Jiang stated at the ceremony that Thursday's success is the implementation of the important consensus reached by the top leaders of the two parties and the two countries.
It is also a solid progress made in building the China-Laos community with a shared future, and a major achievement to benefit the people, he said.
The Chinese ambassador hoped that PowerChina will further share the building and operating experience with the Lao side, so as to proactively play the project's benchmark role in bilateral cooperation.
Source: http://www.xinhuanet.com/english/2019-12/26/c_138658789.htm