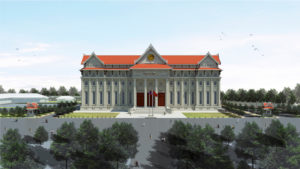 Mitsubishi Electric to Supply Elevators and Escalators for Laos' New National Assembly Building
Will support large government project in growing Lao market
Mitsubishi Electric Corporation (TOKYO:6503) announced today that MELCO Elevator Lao Sole Co., Ltd. (MLAO), a subsidiary of Mitsubishi Elevator (Thailand) Co., Ltd. (MET), has secured an order to supply 14 elevators and 4 escalators for safe, comfortable and reliable vertical transportation in the new National Assembly building in Laos, which is currently under construction.
The new National Assembly building is being built on the site of the former National Assembly building, which was constructed in 1991.
The order reflects the high evaluation of the company's product and service quality in Laos. NEXIEZ-MR elevators (14 units) Z type escalators (4 units) will be shipped from October 2020.
Contacts
Customer Inquiries
Overseas Marketing Division
Building System Group
Mitsubishi Electric Corporation
bod.inquiry@rk.MitsubishiElectric.co.jp
www.MitsubishiElectric.com/products/building/
Source: https://www.mitsubishielectric.com/news/2020/0903-a.html