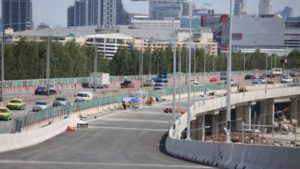 Expressway Authority of Thailand inks Rama III-Dao Khanong-Western Bangkok Outer Ring Expressway deal with CTB Joint Venture after six months delay
The Expressway Authority of Thailand (Exat) board has signed an employment contract and Integrity Pact with CTB Joint Venture for the construction of the Rama III-Dao Khanong-Western Bangkok Outer Ring Expressway, Exat chairman Surong Bulakul said on Thursday (January 30).
"This contract covers civil work and should get the project started as soon as possible after six months of delay from the original plan," he said.
"There are two more contracts to be signed relating to the project. The CNA joint venture is the lowest bidder, quoting Bt5.897 billion, and it is under the legal interpretation process," he added. "The other contract will be awarded to the China Railway-Boonchai joint venture which quoted Bt6.098 billion. The contract should be signed within February if no one appeals against the bidding result."
Surong further explained that the signing with CTB was delayed as many details of the project required a thorough study and Exat needed to be careful with the contract details to prevent future problems.
"Now that the deal is signed, we and the partner will try to finish the project within the deadline," he said. "However it is too soon to estimate the official opening date of the expressway as there are still two more contracts left to be signed."
The Rama III-Dao Khanong-Western Bangkok Outer Ring Expressway will start on Rama II Road and will be 5.3 kilometres long, comprising elevated highways with entrances and exits, U-turn bridges, toll booths and other facilities.
CTB was awarded the civil contract with its proposed price of Bt6.44 billion, including VAT, and it has 1,170 days to finish construction.
Source: https://www.nationthailand.com/news/30381284