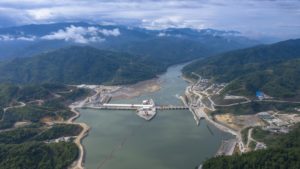 Laos power plant deals in the pipeline
Developers and operators of four hydroelectric power plants in Laos will sign power purchase agreements with energy policymakers in Laos and Thailand within May under a plan to promote more renewable energy.
Massive investments in these power plants, which will be located in northern Laos, are expected over the next few years.
The facilities are part of the Thai government's attempts to achieve carbon neutrality, a balance between carbon dioxide emissions and absorption. Thai authorities also want to use more clean power to run the economy.
The hydropower plants are in line with the memorandum of understanding to import electricity from Laos at a total of 10.9 gigawatts over the next two decades.
Wattanapong Kurovat, director-general of the Energy Policy and Planning Office, said three of the plants are based on run-of-the-river hydroelectric technology.
They are the Luang Prabang hydroelectric power plant, Pak Beng hydroelectric power plant and Pak Lay hydroelectric power plant.
Thailand's state-run Electricity Generating Authority of Thailand, as a sole power purchaser, plans to import electricity from hydroelectric power plants in Laos under long-term purchase contracts.
The 2018 national power development plan (first revision) states broadly that Thailand needs to import electricity from neighbouring countries, without specifying the countries or power generation projects.
Permanent energy secretary Kulit Sombatsiri said Thailand plans to import hydropower from Myanmar, but the neighbouring country's severe political conflict has delayed the plan.
The import of more power from clean resources is in line with the government plan to decrease its dependence on electricity generated by fossil fuels.
Prime Minister Prayut Chan-o-cha vowed during the 26th UN Climate Change Conference in Glasgow late last year that Thailand will be more aggressive in addressing climate change, striving to reach carbon neutrality by 2050 and net zero emissions by 2065.
Source: https://www.bangkokpost.com/business/2279347/laos-power-plant-deals-in-the-pipeline