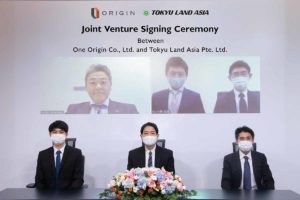 Japan's Tokyu Land makes Thai debut via Bangkok's One Phayathai complex project
SEE ALSO: "ORIGIN" Joins Forces With "TOKYU LAND ASIA" in "One Phayathai", 3.6BN-Baht Mixed-Use Project
Major Japanese real estate developer Tokyu Land Corp. is making its debut in Thailand by announcing its participation in a mixed-use complex project in the capital Bangkok.
The Tokyo-based developer said Monday it will join the One Phayathai project on a plot of about 2,800 square meters through its Singapore-based subsidiary, Tokyu Land Asia Pte. Ltd.
Local developer Origin Property Public Company Ltd. and its fully owned subsidiary, One Origin Company Ltd., will carry out the project, which features two hotels with a total of 412 rooms, office buildings and commercial facilities with a total floor space of about 26,820 square meters.
Construction will start in September, and the project is scheduled for completion in September 2023, Tokyu said.
The complex will be located near Phaya Thai BTS Sky Train Station and Airport Rail Link terminal, which connects with Suvarnabhumi airport in eastern Bangkok.
Tokyu decided to participate in the Bangkok project in anticipation of a recovery of midterm and long-term demand for tourism including demand for hotels in Thailand as a major tourism country.
"We consider Thailand as a big market in terms of tourism and others," a Tokyu official said, adding the firm's top priority is to smoothly proceed with the One Phayathai project.
Tokyu will also aggressively study business opportunities such as an expansion of businesses through the tie-up with Origin Property, the official said.
Tokyu has operated in Indonesia and China. Since the establishment of its Singaporean subsidiary in 2019, it has been expanded its operations in Southeast Asia. (NNA/ Kyodo)
Source: https://nordot.app/795146726824476672?c=445918389795193953