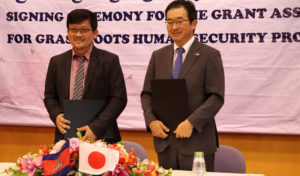 Japan to provide nearly $250,000 for Cambodian bridge projects
Japan has agreed to provide nearly $250,000 in aid for reconstruction and development projects in Kratie and Kampot provinces.
The commitment was made by Ambassador Mikami Masahiro yesterday at the Japanese Embassy in Phnom Penh.
He said $249,528 in aid would be disbursed under the framework of the Grant Assistance for Grassroots Human Security projects.
"A total of $62,638 will be given to Kampot province to reconstruct an old bridge and a triple box culvert which will benefit about 37,000 people in Wat Ang Khang Tboung commune in Banteay Meas district," Mr Masahiro said. "A total of $186,890 will be given to Kratie province to build a concrete 20m-long bridge and a 9m-long box which will benefit around 3,000 people in Ksoem commune, Snuol district."
He noted the Japanese government's aid programme called the "Kusanone" grant project was started in the Kingdom in 1991 in order to support Cambodia's reconstruction and development at the grassroots level.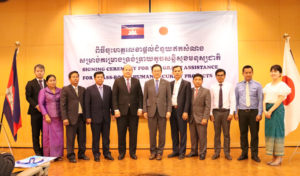 "Since 1991, Japan's government has provided over $60 million for mainly local authorities and non-governmental organisations to implement 623 Kusanone grant projects throughout Cambodia," Mr Masahiro added.
According to the embassy, the Kusanone grant project aims to help those who are vulnerable due to various factors such as poverty and misfortune which directly threatens their lives, livelihoods, and dignity, as well as to promote self-reliance of local communities.
Currently, people in Kratie province's Ksoem commune are using dilapidated wooden bridges which were badly damaged by flood.
Lim Cheavhav, Kratie provincial rural development department director, said yesterday the concrete bridge project will provide villagers with a better way to go to hospitals, schools and markets.
Hor Sorin, Kampot provincial rural development department director said: "The reconstruction will really help the villagers. It will provide local people with an easier access to schools, hospital and markets and especially encourage people's economic activities by enhancing connectivity in the region."
Source: https://www.khmertimeskh.com/50703244/japan-to-provide-nearly-250000-for-bridge-projects/