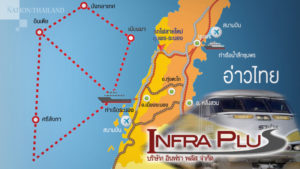 Infra Plus Consulting hired for Bt22m to study EEC transport link to South Thailand through Ranong province
By The Nation
The Office of Transport and Public Policy and Planning has hired Infra Plus Consulting for Bt22 million to conduct a study on its plan to build an efficient transport link between the Eastern Economic Corridor (EEC) and the South through Ranong province.
The move is part of the government's plan to create a transport link between EEC, covering the provinces of Rayong, Chonburi and Chachoengsao, and other parts of the country.
The study should be completed by July next year, the office's deputy director general Wilairat Sirisoponsilp said.
The plan focuses on upgrading the deep sea port in Ranong and turning it into a trading gateway for the Andaman Sea to accommodate the transfer of goods from EEC to countries that are members of the Bay of Bengal Initiative for Multi-Sectoral Technical and Economic Cooperation (BIMSTEC) as well as to Europe, Middle-East and Africa.
BIMSTEC comprises Bangladesh, Bhutan, India, Nepal, Sri Lanka, Myanmar and Thailand.
Source: https://www.nationthailand.com/business/30397914