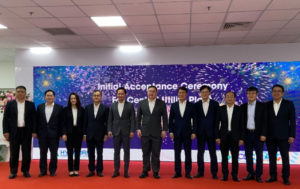 Hyundai Engineering completes Long Son Utility plant project in Vietnam
The plant started operations in February and earned regulatory approval this month; it provides steam and water for industrial use
South Korea's Hyundai Engineering Co., the plant engineering and construction unit of Hyundai Motor Group, said Monday it has completed its construction on the Long Son Utility Plant in Vietnam with regulatory approval from Vietnam's local authority.
The company held an initial acceptance ceremony for the plant on Nov. 26 with key personnel in attendance, including Hong Hyeon-sung, Hyundai Engineering CEO, and Thammasak Sethadom, executive vice president at Siam Cement Group, the Thai conglomerate that awarded the construction order.
The plant is located in Long Son Petrochemical Complex, Vung Tau city, 100 kilometers southeast of Ho Chi Minh City.
The new facilities include infrastructure such as water treatment solutions and electrical substations that produce steam and water, which are essential to the operation of the complex.
The Korean engineering firm broke ground in September 2018 and started operations of the plant in February of this year. The plant was issued regulatory approval this month, three months earlier than initially planned.
kb-long
Hyundai Engineering said it is the only contract company so far to complete construction in the Long Son Petrochemical Complex project ahead of schedule. It shortened the project period through its swift allocation of workforce and constructability review by 3D modeling, the firm said.
Source: https://www.kedglobal.com/construction/newsView/ked202211280016