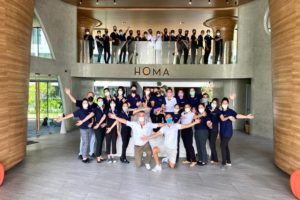 HOMA, the pioneering new co-living concept, unveils multiple projects in Thailand
Following the launch if its inaugural property, HOMA Phuket Town, the innovative co-living concept reveals plans for three more residences, including its first location in Bangkok.
HOMA launches three exciting new projects located in Si Racha, Phuket and Bangkok.
HOMA, the pioneering new co-living concept, has unveiled plans to expand its collection of affordable, flexible and eco-friendly residential accommodation across Thailand, with the launch of three exciting new projects located in Si Racha, Phuket and Bangkok.
This innovative company made its debut in October 2021 when it opened HOMA Phuket Town, a 505-unit community that blends the benefits of a serviced apartment with the facilities of a four-star hotel. This debut marked the start of major growth strategy that will see HOMA invest approximately THB 8.4 billion in multiple new developments across Thailand and Asia Pacific.
The next step in the company's expansion will be HOMA Si Racha, which is scheduled to open in late 2022 in a vibrant industrial centre on Thailand's Eastern Seaboard. The company has acquired an existing serviced apartment building in the heart of the city centre, close to the new Central Festival Si Racha lifestyle mall, Surasak Montri Park and Samitivej Si Racha Hospital and nearby business parks. HOMA is set to start the conversion and renovation of the property for a total investment of THB 350 million in order to bring it into line with the group's contemporary vision and environmental standards.
The original 72-key complex is being enhanced with the addition of a brand-new wing, which will house studios and one-bedroom apartments for a total of 100 units. HOMA will also add a wide range of guest-friendly facilities, many of which will appeal to the large number of Japanese expats who live and work in the area. These include a rooftop pool, a golf simulator, an authentic yakitori restaurant and a traditional onsen. Scheduled to open in the fourth quarter of 2022, HOMA Si Racha will be perfectly placed to meet the unique needs of this market, and it will meet the targets of sustainability that HOMA has set for itself by pursuing EDGE Certification promoted by the International Finance Corporation (IFC), the investment arm of the World Bank.
Nestled in a prime location close to Phuket's highly sought-after west coast, HOMA Cherngtalay will be the next new-build residence in the group's collection. Scheduled to open by the end of 2023, this impressive new project will be developed from the ground up, in line with HOMA's advanced standards of design and sustainability. Long-term guests and short-stay travellers alike will enjoy intuitive amenities, including a fully-connected co-working space, rooftop pool, games room, fitness centre, kid's club and three food & beverage outlets – an all-day café on the ground floor, a restaurant with sunset views, and a pool bar on the rooftop.
With an investment of THB 1.4 billion and a prime position in Phuket's main tourist area, HOMA Cherngtalay will provide an outstanding option for the island's hospitality executives, as well as expats and digital nomads who want to live comfortably and work remotely, just a short distance from the beach, shops and restaurants. This location will complement HOMA Phuket Town, which is focused on professionals working in the healthcare, education and retail sectors.
HOMA can also now announce that it has entered into a Letter of Intent on a site for its inaugural property in Bangkok. This soon-to-be-revealed project will become the company's first residence in a capital city. Scheduled to open in 2024, this new flagship property is expected to feature 250 keys and all the elements that guests love about HOMA, such as its bright and affordable accommodation, community atmosphere, co-working space and upscale hotel services, including a team of "HOMA Hosts", laundry, housekeeping and 24-hour reception.
Whichever HOMA they choose, every visitor can rest assured that their stay will be highly sustainable, with solutions such as solar panels, efficient appliances, LED lighting and air quality monitors. Each new-build property will meet the Excellence in Design for Greater Efficiencies (EDGE) and Leadership in Energy & Environmental Design (LEED) green building standards.
"At HOMA, we take a very customer-centric approach to everything we do. Each project is created with the lifestyles of our residents in mind. By being flexible and prioritizing the needs of today's travellers, while also eliminating the pain points endured by modern renters, we are aiming to establish a collection of creative, eco-c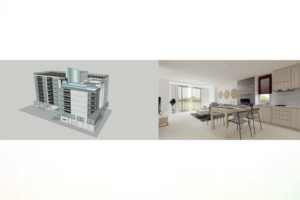 onscious co-living communities that elevate the lives of every guest. I look forward to letting more people 'Live A Better Life' with HOMA in the coming years," said Luca Dotti, founder & managing director of HOMA.
A joint venture between Asia Capital Real Estate (ACRE), a global real estate private equity firm, and NOON Capital, a Thai multi-family housing developer, HOMA will continue to extend its collection of affordable and sustainable accommodation to even more markets in Thailand and across the Asia Pacific region.
Source: https://www.traveldailynews.asia/homa-unveils-multiple-projects-in-thailand