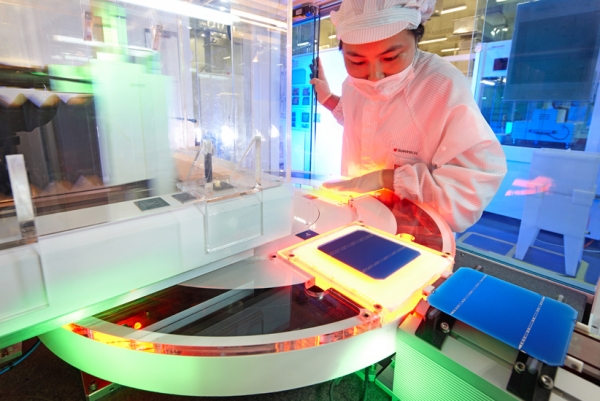 Gintech expects construction to complete by the end of the year and commercial operations to start in Q1 2016.
Taiwanese crystalline silicon cell manufacturer Gintech Energy is to build a 350MW cell production facility in Thailand.
The PV cell supplier has established a Thailand-based subsidiary under the name Gintech (Thailand) and is to invest around US$45 million in the facility's first phase to cover the costs of land acquisition, construct and equipment.
Taiwanese cell manufacturers have been under pressure to relocate production capacity overseas to avoid the latest anti-dumping measures imposed by the US on Chinese solar imports, which include equipment manufactured using cells made in Taiwan. The impact of the US duties has been a key factor in falling sales reported by Taiwanese cell manufacturers in recent months.
Gintech expects the factory to be operation before the end of the year and start commercial production in Q1 2016.
Dr Wen-Yen Pan, chairman and CEO at Gintech Energy, said the factory's establishment would help diversify the company's production capacity and leverage its resources more effectively.
"We expect Gintech (Thailand) to be profitable when it reaches full utilisation, given Thailand's lower labour, land and facility costs and favourable investment environment, while the average selling prices of cells made in Thailand are currently more than 20% higher than prevailing market prices of cells made in China and Taiwan due to trade barriers," he said.
Gintech president and COO Dr Wen-Whe Pan said that Thailand would serve as an "ideal base" for the company to serve emerging markets in the Asia Pacific region and would help it expand on the company's existing talent pool.
Taiwan-based Gintech last month reported that its solar cell sales in March fell to the lowest level in more than two years, falling almost 26% sequentially to NT$832 million (US$26.6 million).
Gintech is the first Taiwanese cell producer to establish meaningful capacity outside Taiwan and the first to Taiwanese cell producer to select Thailand as a manufacturing base.
China-based integrated PV manufacturer'sTalesun and Trina Solar have both recently selected Thailand for their first overseas production plants, while JinkoSolar has selected Malaysia.
Taiwanese cell producers such as Neo Solar Power and Motech Industries have both indicated they were reviewing options to locate production outside Taiwan but have yet to make any formal announcements.
Source: http://www.pv-tech.org/news/gintech_to_target_emerging_markets_with_350mw_thailand_cell_factory