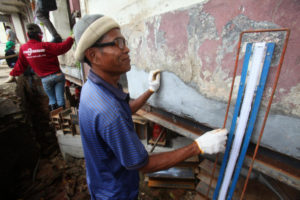 Getting historic renovations right in Thailand
There has been some good news about the conservation of heritage architecture in Thailand in recent years — but bad news as well. First, the good part: our society is waking up to the value of heritage. Despite little public funding and weak legal protection, some old buildings and sites are being conserved. Many people, companies and institutions throughout the nation now recognise that preserving our historic architectural resources improves our economy, communities and quality of life.
Thanks to this growing awareness, we are taking care of more of our vintage shophouses, hotels, transport terminals, temples and "old town" neighbourhoods. Sometimes they are simply maintained as they are, preserving their original function and charm. In other cases, they are given a new purpose: A warehouse becomes an art gallery or restaurant. An antique train station become a library. Many of these projects are driven by tourism. Yet the best project owners look beyond commercialism, taking care to ensure that the aesthetics and historical authenticity of the renovations are right.
Now the bad news: Sometimes these projects go wrong for technical reasons. An old building that has survived for 50, 100, or 200 years can deteriorate rapidly if renovations are not done correctly. The problem is not lack of money but neglect of the principles of building science — the physics, chemistry, architecture, engineering, human behaviour and technology that shape how a building works as a system.
When we change the structural design, materials or operational use of a building, we need to pay attention to this discipline. Otherwise, damage can result. With old buildings, it's especially important to guard against moisture, which propagates destructive mould, mildew, rot and corrosion.
It's easy to renovate vintage properties correctly, but we need to use building science to help modernise our heritage conservation laws, regulations, incentives and funding. That's how it is done in Europe, the Americas, Japan and other places around the world where laws protect cultural heritage as an important public resource.
Unfortunately, we lack a strong national system of heritage management. Most of our historic architecture is not safeguarded at all because our outdated system only protects very old buildings of more than 100 years or those that are publicly owned. This means that many tens of thousands of buildings throughout the nation are at risk of deterioration or demolition.
Cultural heritage is one of Thailand's greatest assets, and most of us are rightly proud of it. What we need now is strong policy to protect it. I hope that public support, political leadership and official action will enable our society to take action as soon as possible and put this at the top of the national agenda.
In the meantime, let's pay attention to building science when we work with vintage properties. Here are some examples of what can go wrong otherwise.
Sometimes a property owner converting a shophouse to a guesthouse will chisel cement off an aged wall to expose the handsome brick underneath. That might look nice, but without a cement covering, brickwork quickly accumulates moisture, leading to destructive mould and mildew.
Air conditioning can create problems. If doors and windows are not equipped with weather strips, humid outdoor air will enter and condense inside, causing structural deterioration. Moisture will rot building elements made of timber and corrode ironwork and steel.
Keep in mind that an old building will last longer if it is not renovated at all than if modifications are done unprofessionally.
In my duties as a consulting architect, I investigated a 150-year-old palace that now functions as a museum. It is a celebrated building, but moisture is slowly destroying it. Mould was eroding not only its walls but also its collection of paintings and sculptures. Both the building and its contents are national treasures.
To analyse the problem, my colleagues and I installed temperature and humidity sensors. The results were startling: Humidity levels were driven beyond 85% because the entrance doors were left open all the time to accommodate a high influx of tourists. The wooden-frame windows lacked weather stripping, which allowed moist outdoor air to infiltrate.
Because visitors were made uncomfortable by the high humidity, the building manager set the air conditioning to cool the interior to a frigid 20C, a truly excessive level. Water was condensing on surfaces throughout the building, leading to rot and corrosion.
Over the past decades, I have visited many historical buildings suffering severe structural decay due to so-called "rising damp".
A striking example is a reclining Buddha statue situated in a temple in Ayutthaya province. The sculpture is 150 years old, but it began to deteriorate only a decade ago. Sure enough, measurements revealed that excess moisture from the ground was infiltrating the statue.
Before 10 years ago, moisture drained away naturally through the green areas surrounding the temple. But to accommodate tourists, the temple administration covered the grounds in concrete to make a parking lot for cars and buses. As a result, the only route for moisture to be released was through the statue.
Choice of construction material also caused a problem. The statue was renovated using modern portland cement, a type of cement that behaves differently from the traditional one. This cement traps moist. Inappropriate use of portland cement is a problem seen in historic renovations throughout Thailand.
Choice of paint matters. Many of our old statues and stupas are covered in gold paint. When they are renovated, builders often use special gold paint that impedes moisture transfer. As a result, water accumulates within the structure, hastening deterioration. These old structures need to breathe.
Problems can result from changing a building's design or structure. For example, a shophouse owner might install a roof deck for dining but fail to have it checked by a structural engineer to see if the walls will support additional weight.
We need to protect against unintentional destruction of heritage through renovation. To do that, we need to renovate our legal framework to ensure that property owners do a good job when taking care of old buildings.
Fortunately, if a better heritage management system is created, we already have tens of thousands of talented government officials, academics, urban planners, architects, engineers and technicians who are ready to make it function well.
Our universities and technical schools can help this effort tremendously. Property owners and our whole society will benefit.
Old buildings, neighbourhoods and cultural sites help drive the tourism that has enabled our economy to recover its health following the Covid-19 pandemic. Let's keep our heritage, too, in good health.
Source: https://www.bangkokpost.com/opinion/opinion/2681364