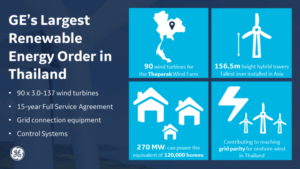 GE Scores Largest Renewable Wind Energy Order In Thailand
14 December 2017 – GE announced on Wednesday that it had received its largest renewable energy order in Thailand to build the three 90 megawatt clusters for the Theparak Wind farm in Central Thailand.
GE Renewable Energy and GE Power have announced that they have received an order to build and provide 270 megawatts (MW) of wind energy capacity for the Theparak Wind Farm in Central Thailand. Together, GE Renewable Energy and GE Power will provide 90 of its 3.0-137 wind turbines with hybrid towers measuring in at 156.5 meters, making them the tallest turbines the company has installed outside of Europe.
The Theparak Wind Farm will be installed across three phases of 90 MW each and is expected to begin commercial operation sometime in 2018. Thailand is seeking to source 40% of its energy mix from renewable energy sources by 2036, and this project — which will provide clean electricity enough to supply the equivalent of more than 120,000 Thailand homes — will go a long way to accomplishing that target.
"Partnering with Wind Energy Holding and contributing to Thailand's largest Onshore Wind Farm is a terrific win for the whole GE team," said Pete McCabe, President & CEO of GE's Onshore Wind Business. "Our 3.0-137 wind turbine with its 156.5m tower is ideal for the very specific wind conditions in Central Thailand and has the potential to contribute to reaching grid parity for onshore wind in the country."
"This project is a great example of what is possible when we put the full power of GE to work in helping Thailand reach its renewable energy goals," added Kovit Kantapasara, President & CEO of GE Thailand. "By collaborating with experts across our wind and grid business, our customer will be able to implement a solution that ensures full integration from the turbines all the way to the local utility."
Source: https://cleantechnica.com/2017/12/14/ge-scores-largest-renewable-energy-order-in-thailand/