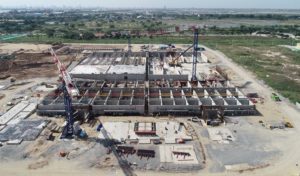 Foreign investment to boost Cambodia's construction sector
The construction sector is projected for recovery, driven by the influx of foreign investment, as the sector reached more than $1 billion in value in the first half of this year.
The draft law on finance for the year 2023 stated that the construction sector is projected to continue to recover at a rate of 7.2 percent in 2023 due to the anticipation of a recovery in the flow of foreign investment in construction for tourism and trade.
At the same time, low- and medium-cost housing construction is expected to continue to maintain good growth due to the increase in domestic demand, it said.
Real estate is projected to grow at a rate of 5.2 percent in 2023 due to expectations of a recovery in buying and selling activity, high-end real estate, condominiums and apartments, investment and domestic demand. Low- and medium-cost residential real estate is expected to maintain strong growth.
According to the forecasts from the Ministry of Economy and Finance, the construction and real estate sectors will grow after the easing of the Covid-19 crisis, and by 2022 the construction sector is projected to increase by 4 percent.
Chalves Vann, a representative of the Cambodia Constructors Association, said that these sectors will see robust growth following the resumption of socio-economic activities.
"Investment in construction and real estate will rebound and will also provide employment for tens of thousands of people. These are contributions of the government in reviving the national economy after the Covid-19 crisis," he said at the association's election of executive committee members for the fifth mandate last Friday.
According to a report from the Ministry of Land Management, Urban Planning and Construction, in the first half of 2022, the ministry issued 1,984 construction permits and a value of investment of $1.041 million.
Source: https://www.khmertimeskh.com/501110783/foreign-investment-to-boost-construction-sector/