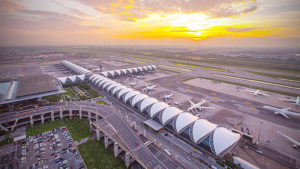 Five stage plan to upgrade Bangkok's Suvarnabhumi airport
The government yesterday received an Airports of Thailand (AoT) plan to expand Suvarnabhumi airport involving five stages.
The decision was made at an online meeting of a committee chaired by Deputy Prime Minister Anutin Charnvirakul and tasked with inspecting proposals and guidelines on improving the airport's capacity.
The action plan consists of five parts, said deputy government spokeswoman Traisuree Taisaranakul.
The first deals with a study by the International Air Transport Association (IATA) into Suvarnabhumi's capacity, which analyses future air traffic demand and determines which other facilities will be needed. The 90-day project began on March 10 and is due to finish on June 7.
The second part concerns a study by the International Civil Aviation Organization (ICAO) to determine Suvarnabhumi's capacity in terms of aviation regulations and standards, which will start next month and be completed by next February 2022.
The third deals with the construction of the airport's East Expansion project that will take more than two and a half years, from April next year until August, 2024.
The fourth part deals with the construction of the airport's North Expansion project which will take two and a half years, from January, 2023 until June, 2025.
The last part deals with the construction of Suvarnabhumi's West Expansion project that is still pending results of studies by IATA and ICAO.
Prime Minister Prayut Chan-o-cha ordered the AoT in February to plan for Suvarnabhumi's development and to hire both IATA and ICAO to contribute to it.
Yesterday's committee also acknowledged a recommendation by the National Anti-Corruption Commission on corruption prevention in Suvarnabhumi's North Expansion project.
Source: https://www.bangkokpost.com/thailand/general/2120939/5-stage-plan-to-upgrade-city-airport