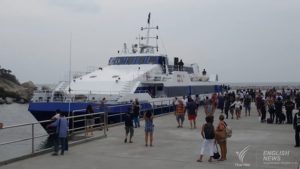 First ferry from Pattaya safely arrived in Hua Hin
The first ferry service between Pattaya and Hua Hin will be launched on January 17 after a successful test run of the service from Pattaya to Hua Hin on Thursday following several postponements due to strong winds and high waves.
200 passengers who included Thai and foreign tourists, members of the media and locals were on board Royal One ferry at the Balihai pier in southern Pattaya for the journey to the fish market pier in Hua Hin. The entire trip took two and a half hours.
The ferry was escorted by a Royal Thai Navy frigate and a patrol boat of the Marine Department during the test run to ensure safety for the ferry and its passengers.
Mr Aekaraj Kantharo, director of the Pattaya office of the Marine Department, said that the presence of passengers on board the vessel during the test run was meant to build confidence among members of the public regarding the safety of the service.
The fare for a single trip was set at 1,250 baht.
Source: http://englishnews.thaipbs.or.th/first-ferry-pattaya-safely-arrived-hua-hin/