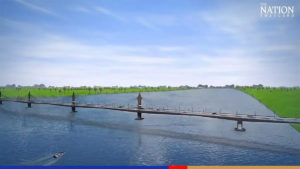 Fifth Thai-Lao Friendship (Beung Kan-Bolikhamsai) Bridge rising fast as Mekong network takes shape
Thailand expects its new, Bt3.65-billion border point with Laos to be completed ahead of schedule next year before opening to boost Mekong region trade in early 2024.
The Beung Kan-Bolikhamsai Bridge will become the country's fifth major border bridge across the Mekong River, connecting Thailand with Bolikhamsai province in Laos.
The bridge is now 32 per cent complete, said Bueng Kan authorities on Sunday, with construction progressing faster than expected and the opening date set for January 2024. Building work on the bridge began in June 2020.
The Bt3.65-billion project covers construction of roads, a customs checkpoint, a concrete bridge, and a multi-purpose area under the bridge.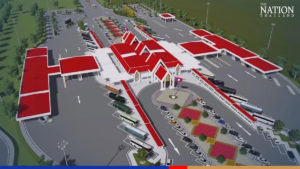 The project is part of the Ayeyarwady-Chao Phraya-Mekong Economic Cooperation Strategy (ACMECS) to create a comprehensive transportation network connecting the Greater Mekong subregion.
The budget was provided by the Neighbouring Countries Economic Development Cooperation Agency (NEDA), except for 476 million baht provided by Laos for construction on its side of the river.
There are currently four Mekong River bridges – also known as the Thai-Lao Friendship Bridges – connecting Thailand with Laos: Nong Khai-Vientiane, Mukdahan-Savannakhet, Nakhon Phanom-Kham Muan, and Chiang Rai-Bo Kaeo.
Once complete, the fifth Friendship Bridge will transport people and goods between Beung Kan and Bolikhamsai, a town rich with rock mines, Jet Ketjamnong, adviser to the Beung Kan Chamber of Commerce, said on Sunday.
"Rocks imported from Laos will greatly aid the construction industry in the Northeast as the transport route will be shorter than the closest rock mines in Loei," he said. "Furthermore, the bridge will cut the distance to Vietnam's Vung Ang deep-water port down to only 300 kilometres, which will open new market opportunities for Thai exporters."
Source: https://www.nationthailand.com/in-focus/40012579