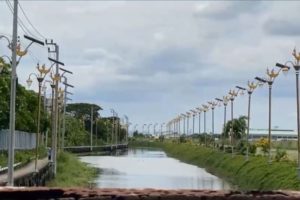 Fancy Kinaree lamp posts in Bang Plee in Samut Prakarn
SEE ALSO: Thailand's Department Of Special Investigation Hands Report On Samut Prakan's Bang Phli District's Kinnaree Street Lights Graft To National Anti-Corruption Commission
The scandal and investigation known as "lamppostgate" has resurfaced in the Ratchathewa sub-district of Bang Plee district, Samut Prakan, central Thailand.
It has been claimed that corrupt councils spend money on fancy lamp post designs to gouge public money for themselves.
Such designs can be seen in many places in Thailand, sometimes in completely out of the way locations where normal lighting would suffice.
Now in the very place where the scandal began before spreading elsewhere – and where an investigation is still unresolved after nine years – the local council has decided to put in 727 more "Kinaree" lamp posts.
Kinarees are mythical creatures from Thai legend.
They are costing a whopping 69 million baht.
Ten on the council voted yes, four said no so mayor Songchai Nokkham's plan is going ahead.
They are also spending 54 million baht on CCTV and 25 million on a building upgrade.
Ratchathewa has been investigated since 2013 over the issue reported Siam Rath.
Source: https://aseannow.com/topic/1279378-fancy-lampposts-there-may-be-tough-economic-times-but-thai-council-still-spending-millions-on-kinarees/