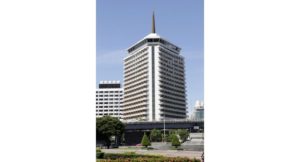 Dusit Thani – A Bangkok Landmark bids farewell
13 June 2018
Located at the corner of Silom and Rama IV Roads, the Dusit Thani will soon be torn down to make way for a new development
ONCE THE leading – not to mention tallest – hotel in Thailand's capital, the Dusit Thani Bangkok Hotel has always been a venue of choice among the Thai elite for fine dining, entertainment and wedding receptions.
Famous for its illustrious design and five-star Thai-style hospitality services, over the years it has become a home away from home for such travelling celebrities as Rod Stewart, Whitney Houston, Jackie Chan, the Pet Shop Boys, Johnny Tillotson, Tom Jones, Gwyneth Paltrow, Coldplay, Got 7, Rain and Super Junior.
Now the hotel in its present incarnation will close its doors on January 5 next year to make way for a Bt36.7 billion mixed-use project being developed in collaboration with Central Pattana, which will feature residences, retail areas and office space, as well as Mark II of the hotel.
As might be expected, the closure is bringing sadness to its loyal customers, among them Chantana Kunjan, who has stayed there every couple of months during her trips back home.
"Since 1992, I have stayed at the Dusit Thani every time I have come back to visit my family. The prime location near BTS and MRT stations makes it very convenient for me to get around," she says.
"Staff members here are friendly and hands-on while the room is always comfortable and clean. I'm sad that the hotel will close. Now I've got no idea where I can stay and feel as much as home as I did in the Dusit Thani."
British trader James Simpson, who spends most of his holidays in Bangkok, says he was stunned to hear the news.
"I come to Thailand three or four times every year and I've often stayed at Dusit Thani, sometimes for two or three weeks. With its good location and modern facilities, I've always found it super convenient and comfortable. During the day I enjoy spa treatments and the Dusit itself has a wonderful calming effect on me. I'm sad that such an iconic Bangkok landmark is closing.
The Dusit Thani's history began in February 1970 when Thanpuying Chanut Piyaoui teamed up with Thai-Obayashi Corp and spent the next three years building the luxury 23-floor hotel. Her aim was to elevate the Thai hotel chain to international standards – and it became Bangkok's tallest edifice and landmark.
"Thanpuying Chanut studied in the US and travelled a lot. When she returned to Bangkok, she founded Dusit International in 1948 by opening the Princess Hotel on Charoen Krung Road. In 1970, the company expanded to Silom's business district with the flagship hotel Dusit Thani Bangkok," says Pongsiya Kittikachorn, director of marketing communications.
"This land belongs to the Crown Property Bureau and once housed Chao Phraya Yommarat's family and the Old England Student Association under Royal Patronage."
Located at the corner of Silom and Rama IV roads, its exterior designs take inspiration from Wat Arun's prangs and its name is borrowed from the miniature city, which was created by King Vajiravudh to refer to the fourth heaven.
"There was no spa and well-equipped fitness centre when we first opened. In the past, we defined a luxury five-star hotel through opulent designs, a swimming pool, doormen wearing elaborate Thai costumes and polite staff members," Pongsiya says.
The hotel was once home to the biggest one-bedroom suites in town, called Thai Heritage. Each occupying more than 80 square metres, they came in four themes – Lanna, Sukhothai, Lopburi and Ayutthaya.
Designed for elegance and maximum convenience, each has a vintage bathtub and spacious living space complete with premium amenities and beautiful furniture upholstered in Jim Thompson's top-quality silk.
In 1977, the hotel opened the high-end discotheque Bubbles which was influenced by John Travolta's hit movie "Saturday Night Fever". Every night, its glittering glass floor was crowded with stars like Ornapa "Ma" Krisadee and Chanana Nutakom, while a group of international DJs manned the decks until 3am.
The rooftop was turned into a popular fine-dining restaurant called Tiara serving a selection of traditional western delicacies. Famous for its classy vibes, Tiara doubled as a cabaret venue, bringing in acclaimed artists like Francis Yip and Stevie Wonder to perform their hits. Its stage can also take a bow for pioneering Tiffany Show's lip-sync acts.
On the ground floor, the Chinese restaurant Mayflower was favoured by politicians and their families. Among the most popular menu items were crispy pumpkin julienne coated with golden egg yolk, barbecued Peking duck, fried custard and salted egg buns and scallop dumplings.
"Our Napalai Ballroom changed the format of the wedding reception, as hi-so families decided to take advantage of the full facilities in the luxury hotel rather than go to a restaurant. Fashion designers turned the ballroom into a chic runway and singers like Nantida Kaewbuasai and Phumphuang Duangjan held their concerts here," Pongsiya adds.
The new huge mixed-use project will expand the plot from 19 to 23 rai During the construction, some staff members will be rotated to other properties and some restaurants and bakeries will open stand-alone outlets so that loyal customers can continue to enjoy their favourite dishes.
"I started working here in 1990 as the hostess at Hamilton Steakhouse. The senior team trained us in how to greet customers and introduce the menu. We had to notice what guests liked and record all details in a personal notebook. I later moved to the guest relations department as I wanted to improve my English. I was trained for two months in writing messages on greeting cards and how to treat VIP guests," Busaba says.
Guest relations manager Busaba Sattabun has worked at Dusit Thani since 1990.
"This is like my home. I will retire next year and I want to work until the last day. The owners never left us or let us down even during bad situations like the red and yellow shirt protests and floods. That's why I love it here," she says with tears in her eyes.
These days, the hotel offers 517 elegant guestrooms and suites ranging in floor area from 35 to 240sqm. All are decorated with teak furniture and silk. The Nation recently spent a night in the luxurious Princess Suite and really appreciated the Thai vintage ambience. Very comfortable and exactly the right size for a family, the 140sqm suite has two bedrooms, a living room and dining space adorned with refined wood and silk.
The master bedroom has a comfy king-size bed, a vanity area with a giant wardrobe and a bathroom that looks like a Thai pavilion. The vintage bathtub is perfect for a long and luxurious soak using the top-of-the-range amenities while the separate shower is just right for a morning wake-me-up.
The smaller bedroom has two single beds, a working area and walk-in closet and an en-suite bathroom with a bathtub, toilet and wash basin. Both rooms overlook Lumpini Park and offer a great view of the Bangkok skyline.
The spacious living room is well furnished with a desk, bookshelf and smart TV, but it's the dining room that captured our heart with its six-seat dining table, pantry, welcome fruit and minibar with coffee machines, and a painting portraying a colonial-style house in a lush garden.
And while it will be sad to say goodbye to this grand old dame, the hotel is making the most of its remaining days by offering a range of special promotions on both food and accommodation.
Source: http://www.nationmultimedia.com/detail/thailand/30347588