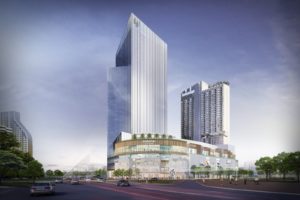 Developer Frasers Property Thailand will replace the Golden Land brand with Frasers after acquisition settled
SET-listed developer Frasers Property Thailand (FPT) will replace the Golden Land brand with Frasers for future residential projects from next month.
The company under the control of Panote Sirivadhanabhakdi, the second son of tycoon Charoen Sirivadhanabhakdi, made this change shortly after it completed acquiring residential and commercial developer Golden Land Property Development and de-listed it from the stock exchange on Aug 11, 2020.
On Sept 21, Mr Panote, group chief executive of Singapore-listed Frasers Property, said in a statement FPT aims to be a fully integrated real estate platform in Thailand.
The developer's portfolio covers residential and commercial properties, in addition to industrial estates, a former key business within FPT prior to the Golden Land acquisition.
As of June 30, FPT had total assets of 96.8 billion baht, comprising 58 residential projects worth a combined 69.8 billion, 3 million square metres of industrial properties, and five projects for office and retail, as well as 1,100 hotel rooms.
The residential projects, hotels, office and retail spaces were formerly under Golden Land.
FPT also announced a new organisational structure, including appointment of new executives, effective from Oct 1.
There will be three key business units: Frasers Property Home for residential; Frasers Property Commercial; and Frasers Property Industrial.
The new name Frasers Property Home will be used as the corporate brand for all new residential products in place of the Golden Land brand, which will be revoked.
Golden Land was founded in 1978 by property veteran Khunying Sasima Srivikorn.
It was acquired by Univentures, a SET-listed firm helmed by Mr Panote and his elder brother Thapana in 2012, before FPT bought it from Univentures last year.
Under the new structure, Saenphin Sukhee, executive managing director of Golden Land, will be appointed as Frasers Property Home's chief executive, focusing on development of both low-rise and high-rise residential projects.
Frasers Property Commercial will be supervised by Thanapol Sirithanachai, who was appointed as FPT's country chief executive on Aug 17.
From Oct 1, Mr Thanapol will also hold two other positions: Frasers Property Commercial chief executive and president of Golden Land, a position he has held since 2012.
Sopon Racharaksa, FPT's president, is slated to for appointment as Frasers Property Industrial's chief executive.
Somboon Wasinchutchawal, Golden Land's chief financial officer, is expected to take over the same role for FPT.
Mr Panote's other property arm, Univentures, will also see a new president, changing from Worawat Srisa-an (whose term ends on Oct 1) to Kumpol Poonsonee.
Source: https://www.bangkokpost.com/business/1991371/fpt-paints-over-golden-land-brand-after-acquisition-settled