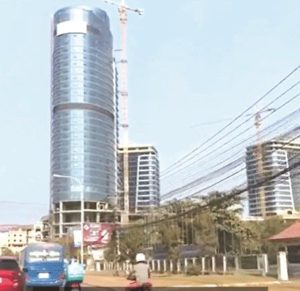 Construction of Laos' tallest building at Latsavong Plaza to resume
Construction of Latsavong Plaza, which houses a five-star shopping mall and a hotel and is said to be the tallest building in Laos, is to resume after the contractor ran into financial difficulties in 2016 and work came to a halt.
Director General of the Department of Economy, Ministry of National Defence, Colonel Siphonexay Khamthongveun, said Latsavong Plaza was a business partnership between the Ministry of National Defence and a Chinese company, for which a contract was signed and construction began in late 2013.
Colonel Siphonexay was speaking at an event last week to sign a document on the continuation of construction of Latsavong Plaza. Latsavong Plaza comprises a 5-star hotel, offices, a shopping mall and other facilities and is located in central Vientiane. It has a value of more than US$99 million, according to the Army Daily newspaper.
After the contract was signed, construction began but the contractor encountered financial problems and numerous problems arose, and construction ceased in 2016.The Ministry of National Defence appointed a taskforce to find ways to enable the continuation of the project and ensure its completion within two years from the date of the signing of a new contract.
Work has now been divided into two phases. Over the next six months construction is to be completed so that the plaza can open in mid-2022.
Phase 2 will see the full completion of the Royal Plaza in 2023 when it is expected that all services and facilities will become operational.
Latsavong Plaza, one of the first military hospitality buildings in Vientiane, will soon be ready to serve guests.
Construction is nearly complete and the developer is now installing electrical systems and carrying out interior decoration. The plaza is located on a 150,000 square metre site and will include a 34-storey five-star hotel, an office block, apartments, a healthcare centre and a shopping centre, which will become a national shopping centre in the future.
The Ministry of National Defence partnered with the Chongqing Real Estate Company of China in the construction of the project, which is expected to cost more than 800 billion kip (US$99 million). This is a major project, which is seen as highly significant in terms of trade, investment, tourism and real estate development.
When construction is complete, it will change the outward appearance of Vientiane and is expected to become something of an icon as the city modernises.
Latsavong Plaza is expected to set new standards in the hospitality sector and to be yet another symbol of Laos-China cooperation and friendship.
Source: https://www.thestar.com.my/aseanplus/aseanplus-news/2021/12/28/construction-of-laos039-tallest-building-to-resume