Construction of Cambodia's Phnom Penh's Ring Road 3 Almost 40 Percent Complete
The construction project of Phnom Penh's ring road 3 linking National Road No. 4 in Sangkat Chaom Chau 3, Khan Pursenchey, Phnom Penh to National Road No. 1 in Dei Edth commune, Kean Svay district, Kandal province has been 39.76 percent complete as of late last month.
Yesterday, H.E. Lim Sidenin, Secretary of State for Public Works and Transport (MPWT), accompanied by relevant officials and representatives of all concerned parties, paid an inspection visit to the construction site, according to a news release of MPWT.
The construction of this nearly-53-kilometre-long and 22-metre-wide ring road began in January 2019 with an estimated cost of US$273 million. Under the project which will last for 42 months, 4 flyovers and 8 bridges will also be constructed.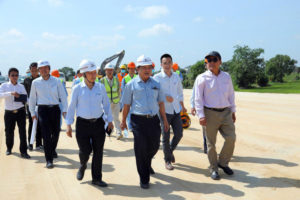 This new ring road will play a crucial role in contributing to reducing traffic congestion in Phnom Penh capital, to facilitating cross-border transport, boosting international trade and transforming the surrounding area into a development zone.
On the occasion, H.E. Lim Sidenin said the construction project follows the master plan and vision of the ministry as well as the Royal Government to ease the transport of products, especially to contribute to reducing traffic congestion of large trucks in and out Phnom Penh.
H.E. Secretary of State also mentioned about the feasibility study on the construction the capital's ring road 4, connecting National Road No. 51 with National Road No. 41, which will make the travel easier, faster, less time-consuming and less costly.
Source: https://www.akp.gov.kh/post/detail/214955