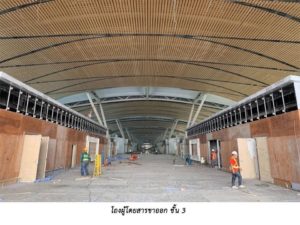 Construction of Bangkok's Suvarnabhumi new passenger terminal show parts not far from completion
While Suvarnabhumi Airport might be all but deserted of passengers, construction of a new terminal is gathering speed.
This week, Airports of Thailand were keen to show off the progress being made in spite of the coronavirus pandemic.
A series of photographs shared to the AOT Facebook page appeared to show parts of the new terminal not far from completion, such one area with carpets laid and an escalator already in place, while swanky toilets and a luggage carousel could be seen in some of the other images.
AOT said that social distancing and other preventative measures have been strictly in place during construction.
The second phase expansion of the airport, which includes the new satellite terminal, is set to open in November 2020.
Following the expansion, capacity at the airport will be increased from 45 million to 60 million passengers per year.
The construction is part of a huge expansion planned for Suvarnabhumi which will eventually include a third terminal and fourth runway and which will ramp up passenger capacity to 150 million annually after completion in 2030.
Source: Thaivisa