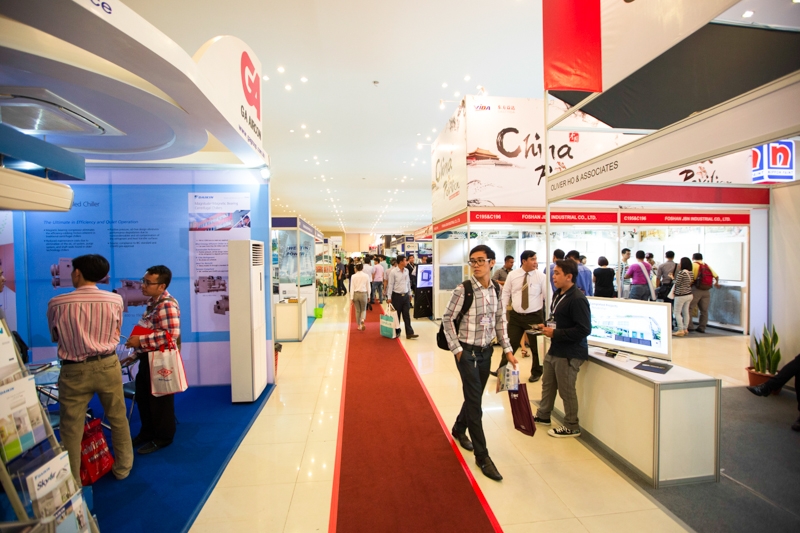 The fifth annual construction expo drew over a thousand visitors on its first day. KT Photo: Fabien Mouret
PHNOM PENH (Khmer Times) – Developers, engineering firms and realtors from around the world converged on Diamond Island yesterday for the opening day of the Cambodia Construction Industrial Expo.
The industry trade show, held at Koh Pich Exhibition Center, drew a slew of attendants, if surprisingly few developers. Most of the 300 attendees showed off pipes, ventilation systems, electrical systems and construction materials. The three-day show, now in its fifth year, will end tomorrow.
Organizer AMB Event-Cambodia said that during the opening day, between 1,000 and 1,500 visitors came to the convention center. The organizers expect a total of 5,000 visitors from China, Malaysia, Thailand, Taiwan, Singapore and India.
"We introduce people," said Oum Tivoon, a spokesman for AMB. "We are going to build up the construction market in Phnom Penh over the next two or three years," through networking and promotion.
Phoeung Sophorn, Secretary of State of the Ministry of Land Management, Urban Planning and Construction, said that the exhibition will boost real estate and construction in Cambodia with its size and visibility.
"The construction sector is a boost to the national economic growth in addition to garment industry, tourism and agriculture," he said at the event.
According to the ministry, 687 construction companies are working in Cambodia, with $2.5 billion dollars in investment last year. In the first half of 2015, $808 million has been spent by developers here.
Source: http://www.khmertimeskh.com/news/15585/construction-industry-expo-kicks-off/