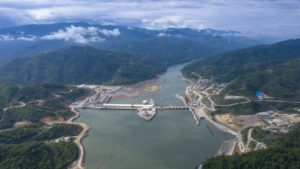 CK Power moves forward with planned 1,285 megawatts Xayaburi hydroelectric power plant in Laos
CK Power Plc (CKP), a power generation arm of CH Karnchang Plc, is going ahead with its feasibility study to build a hydroelectric power plant near Luang Prabang on the Mekong River in northern Laos following a delay caused by the impact of the pandemic last year.
Muntana Auekitkarjorn, CKP's deputy managing director for corporate planning, said the Luang Prabang project, its third hydro power plant in Laos, is estimated to have a development cost of 150-160 billion baht.
She said the study will be conducted alongside negotiations over a power tariff rate with the state-run Electricity Generating Authority of Thailand, which will be a power buyer.
The Luang Prabang project is intended to be built on the Mekong mainstream in Houygno village, about 25 kilometres from Luang Prabang, according to the Mekong River Commission's website.
It is a run-of-the-river dam, estimated to generate 1,460 megawatts of electricity. Developers plan to sell electricity to Thailand or Vietnam.
Construction of the new hydroelectric power plant was set to begin in 2020 and scheduled to finish in 2027, the website said.
CKP earlier developed the Nam Ngum 2 hydroelectric power plant, with installed capacity of 615MW. It started commercial operations in January 2013.
The firm also built a 1,285MW Xayaburi hydroelectric power plant, which opened in October 2019.
CKP recently announced capital spending worth 2-4 billion baht allocated for the next couple of years.
Part of the budget will support the ongoing feasibility study and the firm's projects to expand its power generation business.
Mrs Muntana said the expansion will include new development projects and asset acquisitions.
Thitipat Nananukool, assistant managing director for finance and accounting, said CKP wants to increase its power generation capacity to 5 gigawatts by 2025, up from 2.16GW at present.
Electricity is produced by its 16 power plants, which encompass 12 solar farms and two gas-fired cogeneration power plants in Thailand, as well as two hydroelectric power plants in Laos.
Source: https://www.bangkokpost.com/business/2182467/ckp-moves-forward-with-planned-laos-hydro-plant