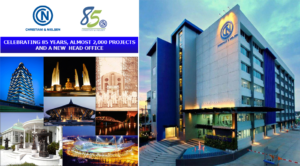 Christiani & Nielsen Thai slashes 2022 revenue expectations
Firm targets B6.2bn earnings by year-end
SET-listed contractor Christiani & Nielsen Thai (CNT) downgraded its 2022 revenue target by 5% to 6.2 billion baht, after it won a disappointing number of new contracts in the first five months of this year.
Surasak Osathanugraha, CNT's assistant to the managing director, said the company signed contracts for three new construction jobs with a combined value of 548 million baht, after bidding for jobs worth 8.5 billion baht between January and May this year.
"The number of construction jobs early this year was higher, but the majority of them were on a larger scale with a value of 2-3 billion baht each, which were always awarded to a single contractor," he said.
"The cake is bigger, but only for a single, larger player," said Mr Surasak. "While the competition was higher, several projects from the private sector slowed down and were postponed without a specific date of resumption, largely due to the Russia-Ukraine war."
The new jobs which CNT was awarded in the first five months were entirely industrial facilities for food business in Samut Sakhon, comprising production buildings of Thai Union Manufacturing and Thai Union Ingredients, and a truck scale area for Inteqc Group.
Mr Surasak said the company would enter biddings between June and December for new construction jobs worth a combined 12.5 billion baht, with the aim of winning 5 billion baht of them.
Of the 12.5 billion baht, 56%, or 7 billion baht, are from the government sector, with 4 billion baht for building and 3 billion baht for infrastructure.
The remaining 5.5 billion baht consists of 2.5 billion baht for warehouses, factories and hypermarkets, 2 billion baht for commercial buildings, and 1 billion baht for mixed-use complexes.
"We have not seen a recovery in hotel construction, which has slowed down or been delayed over the past two years," Mr Surasak said. "We expect good momentum from the revival of the tourism industry after hotel business resumes soon."
In the first quarter of 2022, CNT saw its total revenue fall 27% to 1.24 billion baht, from 1.69 billion baht in the same period of last year, with a net loss of 12 million baht, down from no profit.
It had a sales backlog of 12.3 billion baht at the end of the first quarter of this year.
The company is targeting 6.2 billion baht in revenue by the end of the year, the same level as in 2021.
"The pandemic affected our operation last year due to the temporary closure of construction workers' camps," Mr Surasak added.
Source: https://www.bangkokpost.com/business/2315302/cnt-slashes-2022-revenue-expectations