China Begins Surveys for Railway to Myanmar's Indian Ocean
China has started surveying for a railway to Kyaukphyu on Myanmar's Indian Ocean coast from Kunming in the southern Chinese province of Yunnan, according to Rakhine State residents.
Junta police guarded Chinese technicians investigating the Maei-Ann road in Ann Township earlier this month, said a civil society organization member, who did not want to be named.
"Chinese men surveyed beside the Ann-Maei road. I heard they were surveying for a railway. Even the township's junta administrators were not informed. The Chinese appeared to be able to do anything with a police guard."
A former Rakhine State lawmaker for Kyaukphyu, U Poe San, said the project lacks transparency and there has been no public consultation.
"We welcome any project that will bring benefits and create jobs but if it only benefits China and creates jobs for foreigners, we don't want it," he told The Irrawaddy.
Other China-backed projects, including the Shwe gas scheme and crude oil terminal on Made Island and oil and gas pipelines, only harmed Kyaukphyu, U Poe San said. Residents lost their farmland and fishing grounds to those projects, he added.
When pipeline construction between Kyaukphyu and Yunnan started in 2011 under President Thein Sein's transitional government, China promised 24-hour electricity and proper compensation for villagers. Ann residents said they never received full compensation.
A resident said: "When the project started, the Chinese told us not to protest and promised 24-hour electricity, assistance, health and education in our villages. But they didn't fulfill their promises. No one has received full compensation."
Myanmar and China signed the rail deal in 2011 under Thein Sein. The railway was also among the 33 deals signed during Chinese President Xi Jinping's visit to Myanmar in 2019 under the National League for Democracy administration.
The railway is a major part of the China-Myanmar Economic Corridor (CMEC) and the wider Belt and Road Initiative (BRI) to link global markets with China. The BRI aims to develop maritime and land trade routes to Eurasia, West Asia and Africa. Myanmar's civil war creates a major obstacle to the strategy.
The CMEC includes a special economic zone and a deep-sea port in Kyaukphyu, a Kyaukphyu-Kunming railway and cross-border economic zones in Shan and Kachin states.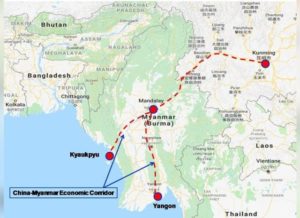 In late September, the junta's deputy prime minister Mya Tun Oo discussed the train links at a Beijing transport forum.
The Kachin Women's Association in Thailand last week demanded an end to Chinese investment with Myanmar's junta, saying Beijing "will find itself complicit in the mounting atrocities associated with the planned projects".
The association said BRI projects are "fueling conflict and abuses" and that Beijing is "taking huge risks to push ahead" with a partnership with Myanmar's regime.
Source: https://www.irrawaddy.com/specials/myanmar-china-watch/china-begins-surveys-for-railway-on-myanmars-indian-ocean.html