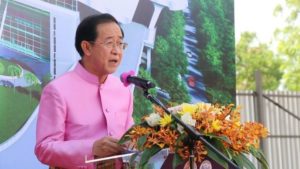 Construction begins for new buildings at Khon Kaen airport
24 September 2018
The construction of a new passenger terminal and a parking building at Khon Kaen airport has begun. The cabinet approved a two-billion-baht budget for the three-year project on October 10th last year.
A merit-making ceremony, which was presided over by Transport Minister Arkhom Termpittayapaisith , was held to mark the beginning of the construction. The new passenger terminal will be painted in the Thai silk pattern to accentuate the Northeastern identity of Thailand.
The project also includes the renovation of the existing passenger terminal and parking building. The new facility will double the capacity of the airport from 1,000 to 2,000 passengers per hour. The figure translates roughly to five million passengers a year.
The existing parking building will add two more floors. The new seven-story building is expected to handle 1,160 vehicles, a significant upgrade from the current 450 spaces.
The architects designed the buildings to underline the uniqueness of the northeastern region by using silk-like patterns on the walls and dinosaur paintings on the ceilings. The new passenger terminal will be spacious and deploy the latest technology to accommodate passengers.
Khon Kaen airport is currently offering 36 domestic flights. However, there are plans to add international routes including Chinese destinations.