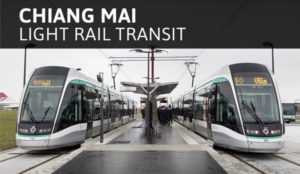 Chiang Mai faces another eight year wait for Light Rail network
An upbeat report by Chiang Mai News reported some "auspicious" dates for the diaries of Chiang Mai residents.
But the bottom line was that people in the northern Thai city would have to wait EIGHT years until they got the first of several planned Light Rail transit lines.
A ministerial level government meeting in Lampang on Monday and Tuesday this week reported on the latest developments.
The main decision is that the Red Line will be worked on first. This will go from Nakorn Ping Hospital to the Mae Hia Saman Sammakhee intersection.
It has yet to be decided what sections will be above ground and what will be below. Further studies will start this month.
It is hoped that by November a plan to pay for the multi billion baht project will be presented to the government.
Building will take 69 months with the expected completion date by B.E. 2570…..that's 2027!
Chiang Mai News called the dates auspicious in their headline.
Source: Thai Visa