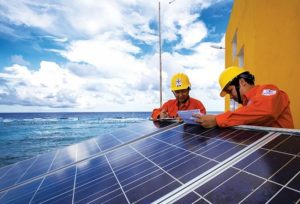 Thai investors jump into renewable energy sector in Vietnam
30 August 2018
In addition to the retail, beer manufacturing, and plastic sector, Thai investors have increased their investment in the renewable energy sector, with the aim to diversify their operations in Vietnam.
Thai investors jump into renewable energy sector in Vietnam, vietnam economy, business news, vn news, vietnamnet bridge, english news, Vietnam news, news Vietnam, vietnamnet news, vn news, Vietnam net news, Vietnam latest news, Vietnam breaking news
Most recently, B. Grimm Power Plc., through its subsidiary B Grimm Renewable Power 2 Ltd., has completed the $35.2 million acquisition of its solar photovoltaic power project in Vietnam as part of the expansion of its portfolio of overseas renewable power projects.
Notably, B. Grimm bought an 80 per cent stake in Phu Yen TTP JSC, the project company investing and developing a 257MW PV scheme in the south central coastal province of Phu Yen.
The remaining part of the project will be developed by Truong Thanh Vietnam Group JSC (TTVN).
The above deal is part of SET-listed B. Grimm's rapid expansion of power generation equity in Thailand and overseas.
At the same time, TTVN Group completed the sale of 80 per cent stake in the Binh Nguyen solar power project in Quang Ngai to Sermsamg International Co., Ltd. for $17.6 million.
Vietnam currently has a wind power capacity of 140MW, with a goal to reach 6,000MW by 2030, according to government data.
Also in June, the firm partnered up with one of the largest Vietnamese conglomerates, Xuan Cau Group, to develop the biggest solar power plant in Southeast Asia with the combined capacity of 420MW.
These deals are some of the most recent outstanding transactions conducted by Thai investors in the renewable energy sector.
Earlier in April, Gulf Energy Development Public Company Limited, the third largest energy producer in Thailand, announced the plan to establish a joint venture with a domestic firm to develop a solar farm in Tay Ninh province with a 51 per cent stake owned by Gulf.
According to the plan, the project will have the total investment capital of $66 million. The construction is expected to be kicked off in June this year and will start to generate power in June 2019 with the capacity of 48MW.
With 2,400 hours of sunshine per year, Tay Ninh is considered an ideal destination for solar farm investors.
Regarding the wind farm sector, in February, Thailand's largest solar energy company Superblock Pcl. plans to invest $1.76 billion to install 700MW of wind farms in Vietnam.
The first phase of the investment will cost about $650 million and consist of three near-shore farms with 142MW of capacity in Bac Lieu, 98MW in Soc Trang, and 100MW in Ca Mau province, all in southern Vietnam.
The second phase (360MW) will also be built in these three provinces and construction will begin when the first phase is concluded.
Jormsup Lochaya, chairman of Superblock Pcl., said that the construction of these projects has already begun and expects the sites to be operational by 2020.
"The Feed-in-Tariff the Vietnamese government pays foreign investors is at $9.35 for solar and $9.80 for wind farms, which are very good rates," Jormsup said, adding that his company also planned to invest more in renewable projects in the Philippines, Indonesia, and Japan, with the aim of becoming a regional player.
However, to date, the investor has yet to issue further information on the projects.
Source: https://english.vietnamnet.vn/fms/business/207759/thai-investors-jump-into-renewable-energy-sector-in-vietnam.html