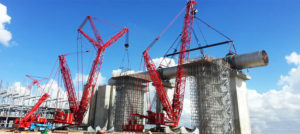 We are extremely proud and excited to announce that CEA Project Logistics and Fagioli Italy are aligning focus, resources and efforts to expand our combined market presence and reach in South East Asia.
A consortium agreement has been agreed by our two companies that will see CEA Project Logistics & Fagioli provide a multitude of services throughout Thailand, Myanmar, Laos, Vietnam and Cambodia. These services will include Heavy Haulage for Module Transportation, Load-Out of Modules and other offshore structures, Lifting & Skidding of heavy items by use of Strand Jacks, Barge Transportation and projects pertaining to civil structures.
Well beyond a typical representative or distribution relationship, we are creating and developing a very deep and strongly bounded partnership wherein both companies will cross train service personnel, share facilities and infrastructures, and align sales and marketing efforts throughout the region. By collaborating in such a manner, CEA and Fagioli are producing an increase in value to all our clients in the form of reduced costs, expanded footprint and improved services. By creating this new business model we can provide the optimum equation whereby 1+1 = 3 for all our clients. We are very excited about this new synergy and the new opportunities it will bring and genuinely look forward to passing these benefits on to our clients.
CEA Project Logistics Andrew Hall – Operations Director
"As the logistics sector continues to face economic challenges, companies must co-innovate to solve the difficult problems their clients face. This is why we are working with Fagioli, a market leader in the execution of complex activities within the logistics sectors. Fagioli's constant 'search for excellence' is an ethos that has made them a leader in their field not only in their homeland Italy but also on a worldwide stage, we at CEA hope with this partnership to replicate that same success throughout South East Asia."
About CEA
Established in 2000, CEA has become a leading provider of logistics services in South East Asia. Specializing in industrial cargo, CEA is strategically positioned to provide an 'All-In-One-Service' that can be customized to meet any project requirements. A workforce of over 400 project cargo specialists within Thailand, Myanmar, Singapore, Laos and Vietnam provide clients with local solutions on a global scale. Today CEA has seen exponential growth in operations providing a level of service that is unequalled within the ASEAN region. Managing Director Kevin Fisher's vision to be the industry leading service provider for logistics solutions is on course to be realised, CEA have expanded their fleet of equipment with an asset portfolio now over US$10 million.
www.ceaprojects.com
About Fagioli
Founded initially as a transport business in 1955, Fagioli became a leading company in the handling and transportation of goods throughout Italy. Over 60 years of experience has put Fagioli into the forefront of heavy transportation, lifting and applied engineering. Fagioli operates heavy lifting equipment, including strand jacks and associated power packs, tower lifts, skidding and elevator systems, crawler cranes, hydraulic gantry cranes, flat jacks, and screw jacks. It offers engineering, heavy transport and lifting, and project logistics/freight forwarding services. It serves civil/shipyard, offshore, petrochemical, and power sectors.
www.fagioli.com