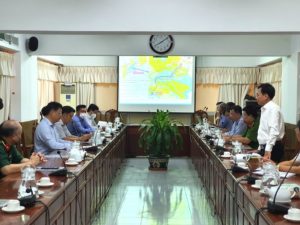 Can Tho in Vietnam wants rail link with HCMC to be kicked off before 2030
Work on the 174-kilometer HCMC-Can Tho railway project should start before 2030, said Can Tho Vice Chairman Nguyen Ngoc He.
At a meeting with the Railway Management Board under the Ministry of Transport and the consulting firm for the HCMC-Can Tho railway project on May 12, He said the railway would be used to transport cargo for the Mekong Delta and connect the region with other parts of the country.
Le Tien Dung, director of the Can Tho Department of Transport, said that as planned, the railway would not be kicked off until 2030. However, preparations should be done before 2030, including the prefeasibility report.
He added that the railway should be developed in the 2025-2030 period if capital and investors are available.
Earlier, a representative of the consulting consortium which developed the prefeasibility report for the project said the railway was designed to start at the Tan Kien Station in HCMC's Binh Chanh District and end at the Cai Rang Station in Can Tho. The project, which requires an estimated US$7 billion, will pass through six cities and provinces: Binh Duong, HCMC, Long An, Tien Giang, Vinh Long and Can Tho.
The double-track rail line would allow a maximum speed of 190 kilometers per hour for passenger trains and 120 kilometers per hour for cargo trains. It would take 75-80 minutes to travel between HCMC and Can Tho by train, while road travel currently takes 180-240 minutes.
The section in Can Tho will have a length of some 6.5 kilometers, including a four-kilometer elevated segment.
According to the consulting unit, the railway would be able to transport some 6.4 million passengers and 9.1 million tons of cargo per year by 2035. The figures are expected to increase to over 22 million and 41 million tons, respectively, by 2050.
By 2034, road, river, sea and aviation traffic systems between HCMC and Can Tho will still be able to meet the transport demand. However, they will fail to meet the demand in the following years, and railways need to be developed.
Therefore, the HCMC-Can Tho railway should be completed in 2034 at the latest to meet the rising demand in the future.
Earlier, the Southern Institute of Science and Technology informed that the HCMC-Can Tho railway project had attracted more than 20 sources of investment from many countries and international financial funds.
In 2018, the institute signed a memorandum of understanding with an investment fund from Canada to execute the project.
Source: https://english.thesaigontimes.vn/can-tho-wants-rail-link-with-hcmc-to-be-kicked-off-before-2030/