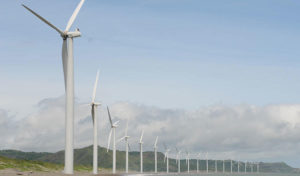 Cambodia's sustainable energy plans may be empowered as oil and gas industries stumble
Cambodia's plans to develop sustainable energy generation may get a boost from international investors eyeing the region for opportunities.
Japan's Mitsubishi Corp has just announced plans to develop Southeast Asia's largest wind farm in neighbouring Laos. It is investing in Impact Energy Asia Development Ltd (IEAD), through its Hong Kong subsidiary Diamond Generating Asia Ltd.
The 600-megawatt (mW) capacity onshore wind farm project will be developed through an inter- mediate holding company together with a group company of Impact Electrons Siam Co Ltd in Thailand. The country's first wind farm will be located in Sekong and Attapeu provinces in southern Laos, close to the Cambodian border. It will supply Vietnam with electricity through a dedicated power transmission line. Power from the wind farm is planned to be sold to Vietnam Electricity, the state-owned electric power company, courtesy of a 25 year agreement.
"At the moment this is only about Laos and Vietnam," a Mitsubishi Corp spokesman told Khmer Times, but attention in the Kingdom is focusing more on renewables as oil and gas producers face problems tapping the country's fossil fuel reserves.
The spokesman added, "Like the Laos wind farm, we may be interested in Cambodia or any other projects in Asian countries in future if Cambodia has the potential power to generate renewable energy."
Construction of Cambodia's first wind farm is set to begin by the end of this year and enter commercial operation in 2024 as cited in the Power Development Plan from the Ministry of Mines and Energy. A spokesman for The Blue Circle (Cambodia), which is developing the wind farm, said discussions with state-run Electricite du Cambodge (EDC) on the price of the power produced are still ongoing.
"With the current pandemic situation, energy demand is low, which affects the negotiation process with EDC. Our proposed PPA price of 6.88 US cents per kWh (kilowatt hour) is already the lowest price for wind energy in Southeast Asia. It is also consistent with the latest solar PPA prices signed by EDC just last year at 7.6 US cents per kWh and lower than the cheapest PPA price signed for a coal power plant in Cambodia at 7.43 USc/KWh," the spokesman said.
The Blue Circle identifies, develops, finances, owns and operates renewable energy projects in Cambodia, Vietnam and Thailand. Its study on the Cambodian wind farm, to be based in Kampot province, found wind capacity of about 1,300 mW, of which 120 mW could be used immediately.
The Blue Circle is in late-stage development of 300 mW of wind-power projects. The company agrees with independent consulting firm 3i's finding, that in a medium wind development scenario, that 1185 mW of wind energy could be built by 2030 with quality grid integration.
Source: https://www.khmertimeskh.com/50877965/kingdoms-sustainable-energy-plans-may-be-empowered-as-oil-and-gas-industries-stumble/