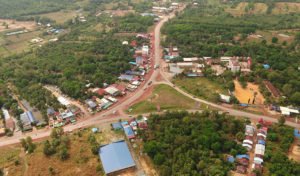 Cambodia's National Road 48 to help connect Asean countries
National Road 48, a section of the ASEAN Highway 123, will be upgraded to have some sections with four lanes connecting National Road 4 to Khemara Phoumint city in Koh Kong province.
This National Road plays a significant role in helping to connect Thailand and Vietnam and therefore will help boost tourism industry transportation in Cambodia, as well as facilitate the flow of goods in the region.
In his speech during the groundbreaking ceremony yesterday, South Korean Ambassador Park Heung-kyeong said that the road is the core component to connect western Cambodia to other parts of the country.
"It is a section of the ASEAN Highway 123 which connects Thailand to Vietnam. So, it is a very important road for the development of the tourism industry and the Cambodian transportation network, as well as to connect countries in Southeast Asia together," he said.
Public Works Minister Sun Chanthol said the existing National Road 48 was opened on May 14, 2008.
"The old National Road 48 was covered by two layers of bitumen (DBST) with only two lanes. It is 150 kilometres long and was built by a Thai construction company with a loan from the Thai government at that time," said Chanthol. "In addition, the Thai government also provided grants to build four bridges on some parts of the road."
He added that the old NR 48 was supposed to last only between five and eight years with correct maintenance following technical standards and without overweight transportation.
"Today, the traffic on the road has increased significantly – the total number of vehicles per day is 3,339 of which there are 1,962 cars and trucks, and 1,377 motorbikes," he said.
"As the economy improves, trade activity and tourism along the coast are also on the rise," added Chanthol. "So, NR 48 needs to be upgraded to have seven centimetres as cover on 25 centimetres of concrete with steel reinforcement inside."
He said that 25.1 kilometres of the new NR 48 will have four lanes and 122 kilometres will have two lanes. Four new bridges and 140 culverts will be added to the road. Traffic equipment will be also installed along the road.
NR 48 starts from its intersection with National Road 4 in Boeng Preav commune's O'Chreuv village in Koh Kong province's Sre Ambel district and ends in Khemara Phoumint city.
"The improvement of NR 48 will be complete in 32 months. It will be completed in June 2024. It is a joint venture with South Korean construction companies Ilsung & Hanil which won the contract to improve the road," said Chanthol.
"It is Ilsung & Hanil who have the rights for inspection and giving advice for construction of the road," he added.
According to Chantol, the improvement of NR 48 will cost around $65.14 million and will be funded by the South Korean government under a concessional loan. The Cambodian government will provide funding to clear mines and UXOs along the road improvement project site.
Source: https://www.khmertimeskh.com/50999928/national-road-48-to-help-connect-asean-countries/