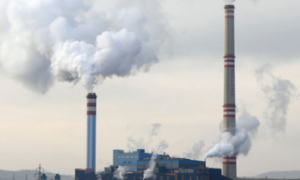 Cambodia's National Assembly Approves 1,000 MW Coal-Fired Plant Projects
The National Assembly this morning (26.03.2020) approved coal-fired power projects with a production capacity of nearly 1,000MW.
The approval was made in an extraordinary parliamentary session chaired by Samdech Akka Moha Ponhea Chakrei Heng Samrin, President of NA, with 108 lawmakers in attendance.
The projects were endorsed by the Council of Ministers in a meeting held on Feb. 7, 2020.
The first project is a 700MW coal-fired power plant, a joint venture between Royal Group and China-based Sinosteel Equipment and Engineering Co., Ltd.
The plant will be built in Botom Sakor district, Koh Kong province, and is scheduled to generate power by 2024.
Meanwhile, the second is a 265MW coal-fired power plant to be invested in by Han Seng Coal Mines Co., Ltd. Located in Trapang Prasat district, Oddar Meanchey province. The plant is scheduled to generate power in 2022.
The 230KV transmission line development project, linking the coal-fired power plant in Oddar Meanchey province to the sub-power station in Siem Reap province was also approved on the occasion.
Source: https://www.akp.gov.kh/post/detail/28615