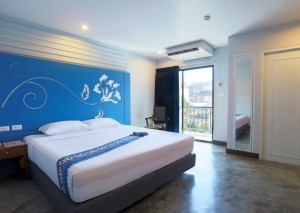 Kosmopolitan Hospitality to manage new 122-room Phuket property
The new Days Inn Patong Beach Phuket is a 122-room hotel located in Phuket's main resort area, six minutes' walk from the beach.
Formerly known as the Aloha Villa Phuket, the hotel was given a makeover prior to rebranding as a Days Inn. Its facilities include two restaurants, a rooftop pool, an internet centre and free Wi-Fi.
The property will be managed by Thailand's Kosmopolitan Hospitality and operated under a franchise agreement with Wyndham. And the two companies plan to continue collaborating on projects across Southeast Asia in future, including the Wyndham Legend Halong in Vietnam.
"The Kosmopolitan group is a key partner in our joint efforts to expand our portfolio of hotels in emerging markets throughout Southeast Asia. Their team's expertise in managing and developing successful hotels and resorts is proven and well-respected in Southeast Asia. We share similar goals and our interests are aligned," said Barry Robinson, Wyndham's president & managing director for Southeast Asia & Pacific Rim.
Glenn de Souza, CEO of Kosmopolitan Hospitality added; "Days Inn is an esteemed brand with a wonderful concept that will appeal to budget conscious travellers with its great value. We are confident of delivering the highest level of service excellence to our customers."
Wyndham said it will continue focusing on "emerging markets such as Thailand". There are currently almost 1,800 Days Inn hotels operating globally, including properties in China, India, Indonesia, Singapore and South Korea.
Source: http://www.traveldailymedia.com/234606/wyndhams-days-inn-hotel-brand-debuts-in-thailand/