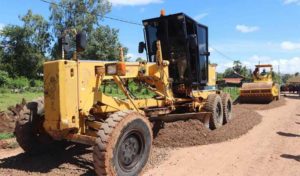 Cambodia's Banteay Meanchey authorities begin construction of new road
Banteay Meanchey's Provincial Administration held a ground-breaking ceremony for the construction of a new road in the province.
Um Reatry, Banteay Meanchey Governor, Sok Chantha, Director of the Provincial Department of Public Works and Transport, and Hul Raya, Governor of Serei Saophoan City, presided over the ground-breaking ceremony which was held on June 3.
Officials confirmed that it is a road that connects to National Road 5, in front of the health centre in Sangkat O'Ambel. The road also runs along a rail road and measures more than five kilometres.
Construction of the road was started after requests of the residents. The road will facilitate travel and connect the areas of the province to the National Road.
The construction of the road is financed by the provincial budget and donations from Deputy Prime Minister Ke Kim Yan, as well as from Oknha Mao Malay.
Source: https://www.khmertimeskh.com/501087911/banteay-meanchey-authorities-begin-construction-of-new-road/