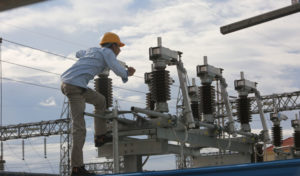 Cambodia's $400 million transmission line to bring in Laos, Thailand power
The construction of a combined more-than $400 million power transmission line connecting Cambodia to Laos and the Thai border will start next year, according to an official from the Ministry of Mines and Energy (MME).
The government through the Council of Ministers approved a 500 kilovolt transmission line investment project from Phnom Penh to the Cambodia-Laos border and 500 kilovolt transmission line from Battambang to the Cambodian-Thai border.
Victor Jona, MME's director-general of the energy department, said that the government has invited SchneiTec Co Ltd to invest in these two projects after offering the company a technical study and environmental assessment.
He said the transmission line connecting to the Laos border will be 300 kilometres (km) in length and the one from Battambang province to the Thai border will be about 110 km. Of the more-than $400 million total cost, $300 million will go on the Laos transmission line.
"To be timely for 2024, when a Laos-based coal power plant is due for completion, the construction will start from next year," he said. "The company has already completed a technical study and environmental impact and they are just waiting for final approval from the Ministry of the Environment for its assessment report," said Jona.
He added the 500 kilovolt transmission line connecting with Laos will be used to transfer hydroelectric power as well.
In September 2019, Cambodia's state-owned utility firm Electricite du Cambodge (EDC) signed a 30-year deal to buy coal power from two producers with a combined capacity of 2,400 megawatts (mW) situated in Laos' Sekong province.
Cambodia expects to import 300 mW from the plant in the first phase by 2025 and another 300 mW next year until the total 2,400 mW target is reached.
A megawatt is a unit for measuring power and represents 1 million watts which is equivalent to the energy produced by 10 automobile engines or 330 average homes for one hour.
Cambodia is trying to maintain its momentum as one of the fastest-growing economies in Asean, even as it grapples with having one of the highest electricity tariffs in the region.
The government has just approved a 150 mW hydropower project upstream on the Tatai River to help bring down the country's electricity tariff.
Te Taingpor, president of the Federation of Associations of Small and Medium Enterprises of Cambodia (FASMEC), said that this will reduce the electricity tariff, especially for industry consumption.
He added even though the electricity price in Cambodia can be seen to be decreasing the rate has remained high compared with neighbouring countries, which affects the country's competitiveness.
"We welcome the government's move to increase electricity capacity so we will be able to increase our production and competitiveness as well," he said.
Taingpor said currently FASMEC is encouraging the establishment of small and medium enterprise clusters in each province, providing economies of scale such as electricity consumption and transportation.
About 92.68 percent – 13,131 villages of Cambodia's total villages – had access to electricity by the end of 2019, according to a report from the Mines and Energy Ministry.
The government is committed to having all villages in the Kingdom connected to electricity by the end of 2020.
Cambodia's main electricity sources are hydroelectric dams and coal-fired power plants. The country has seven Chinese-built hydropower dams with a total capacity of 1,328 mW and three coal-fired power plants with a combined capacity of 675 mW.
Source: https://www.khmertimeskh.com/50777612/400-million-transmission-line-to-bring-in-laos-thailand-power/