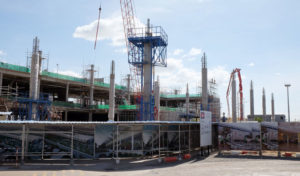 Cambodia Airport Investment's new Phnom Penh International Airport cost estimated at $1.5 billion
Cambodia Airports and the Overseas Investment Corp (OCIC) have shown progress in discussions on the development of a new Phnom Penh International Airport which is expected to be finished next year.
Their cooperation has been signalled through a draft memorandum of understanding (MoU). Stating Cambodia Airports will join with the OCIC to develop a new airport in Kandal province, said Sin Chansereyvutha, a spokesman for the State Secretariat of Civil Aviation (SSCA), where the meeting was held on Tuesday.
Discussions focused on cooperation between Cambodia Airports and the OCIC on the development of the new airport, he said.
"The two sides agreed to establish the MoU, which will be used as the foundation in further discussions on how the SSCA would help with for the development of the new airport," Sin said.
Khek Norinda, communication and public relations director of Cambodia Airports, said they are at the very early stage discussions and they are currently deemed confidential.
Cambodia Airports has constantly expressed to Cambodian authorities a commitment to fulfilling its missions according to a concession agreement signed in 1995. This includes extending those missions to new international airports projects contemplated by the Royal Government (RGC), he stated.
"At yesterday's meeting, we reiterated our stance. Therefore, Cambodia Airports remains available and committed to a constructive dialogue on the new PP [Phnom Penh] Airport project under the guidance of the RGC and the SSCA," Khek said.
The project was announced in early 2018 and is projected to cost $1.5 billion under the investment company name Cambodia Airport Investment.
OCIC chairman Pong Khiev Se said last December that the construction of new the airport will be a 4F-class airport.
The airport progress is developing well. Sin said, adding the runway is being built, a study for the terminal is being conducted and compensation for affected landowners is being processed.
Source: https://www.khmertimeskh.com/50687604/new-international-travel-hub-seeks-development-cooperation